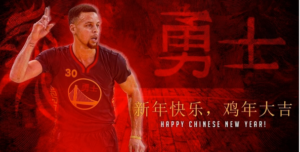 The Golden State Warriors may go where no other NBA team has gone in the history of the league tonight.

They may take the NBA Championship going a perfect 16-0 in the playoffs.

The team's rising star is shining all the way to China where the team is growing a major fan base.

ABC7 News reports sale of Warriors merchandise in China tops the merchandising of all other teams and jerseys of Warrior Guard Steph Curry have surpassed Kobe Bryant as the top seller in the Chinese market.

"The Warriors are a West Coast team, so a 7 o'clock start over there, is a 10 o'clock start in the morning for Beijing, which is a lot better than an East Coast team," says Howard Chen, international producer for ESPN.

Viewership of the NBA Finals have been huge in China. The Warriors are already scheduled to play two preseason games in China next season against the Minnesota Timberwolves.

Thompson is always on ESPN China ? he is like our best friend now #warriors pic.twitter.com/ZXdZeVBopi

— Coral Lu (@CoralLu1) February 13, 2017


"The percentage of people who are NBA fans in China is more than half of the population of people here in the States," said Emily Tang whose a host with FansTang, a company producing entertainment exclusively for China. "There's just a lot of people in China, that's what it comes down to."

Game 1 broadcast finished with official Tencent (China) number of 33+ mill hits. Let's just say Game 3 is on pace for more. Way more. pic.twitter.com/HNFGFe5zHm

— Howard Chen 陳定豪 (@TheHoChen) June 8, 2017


AsAmNews has Asian America in its heart.  We're an all-volunteer effort of dedicated staff and interns. You can show your support by liking our Facebook page at  www.facebook.com/asamnews, following us on Twitter, sharing our stories, interning or joining our staff.