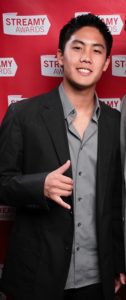 By Sophia Whittemore
AsAmNews Intern
I'll say it here.
What CAN'T Ryan Higa do?
My friend brought me to YouTube around 3rd or 4th grade, revealing a world of banana videos and unicorns and parodies… so many parodies. YouTube has been a great source of fun, befuddlement, and a producer of our favorite vlogging celebrities. What did little, 4-foot-tall half-Indonesian me grow up watching on YouTube? Here's a hint.
He's the creator of the epic parody Sham-woo-hoo and the Nice Guys music video. AND I mentioned him five minutes ago. He's the title of this article, come on.
He's formed his own K-Pop band. He makes instruction How-To videos that parody big tech and commercial brands. He writes skits that make his millions of subscribers incredibly upbeat, positive, and happy about their lives. He is the definition of a badass Asian. Don't believe me? Check out the definition below:
Badass Asian – Ryan Higa.
Okay, all jokes aside, the millennial YouTuber recently came out with his own book, How to Write Good, that he presented at BookCon in New York City with other famous authors like Marissa Meyer, Karuna Riazi, and Cassandra Clare. Cutesy pictures of the famous YouTuber author adorn the BookCon and Publisher Weekly's websites with highlights from the event.
From the BookCon website: Ryan Higa's tongue-in-cheek title Ryan Higa's How to Write Good  is a page-turner filled with accounts on how he, the Ryan Higa, rose to fame and stardom as a pop-internet sensation. It's also a testament to his earlier, struggling years, growing up as a half-Japanese kid in Hawaii who was often pushed around by his peers. Well, Ryan Higa has the last laugh as he is now living the absolute dream!
Ryan Higa is just more proof that Asians are SO badass.
Like we needed it.
AsAmNews has Asian America in its heart.  We're an all-volunteer effort of dedicated staff and interns. You can show your support by liking our Facebook page at  www.facebook.com/asamnews, following us on Twitter, sharing our stories, interning or joining our staff.