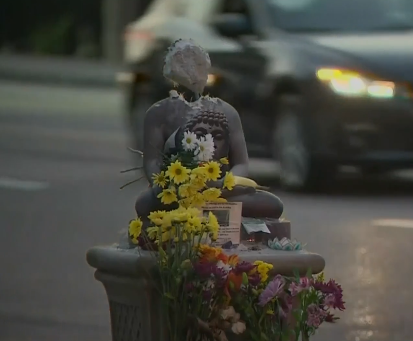 A statue of Buddha anonymously left on a median by an angel has brought peace and harmony to the city of Palms near Los Angeles
Unfortunately, that tranquility was broken when vandals smashed the statue's head, reports CBS LA
The median was once a spot where people threw trash and abandoned unwanted furniture.
Buddha changed that and instead of trash, people left flowers.
"People are starting to come out and walk around and start to feel safe once again in this neighborhood. And this was just a nice offering of that. With the vandalism, it just dampens the spirit of the neighborhood," said resident Amy Gallo.
"We're a very multi-cultural and eclectic community. There's a big population of Muslims, Christians, Catholics, Jews … so people were just taken aback," Lee Wallach, director of the Motor Avenue Improvement Association, told the LA Times.
The community has launched a fundraiser to repair the statue. It hopes to raise $5,000 and replace the head with a more sturdy metal one and also add security cameras. It's set up a donation page.
AsAmNews has Asian America in its heart.  We're an all-volunteer effort of dedicated staff and interns. You can show your support by liking our Facebook page at  www.facebook.com/asamnews, following us on Twitter, sharing our stories, interning or joining our staff.