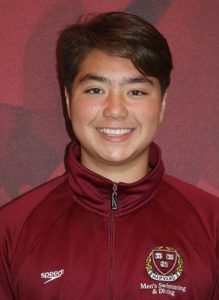 A Hapa transgender male athlete is the first transgender man to compete in any NCAA division 1 sport, reports CBS News.
A rising junior at Harvard, Schulyer Bailar originally made Harvard's swim team as a woman. Bailar transitioned to a male and switched to Harvard's men's swim team about two years ago.
Bailar specializes in the breaststroke.
Born to an Asian mother and white father, Bailar knew at a young age he was different. As a girl, Bailar struggled through childhood. She disliked dresses and feminine things, kept her hair short, and hung out with the boys.
After a while, Bailar tried to accept her biological gender but later developed eating disorders. She didn't realize that she was transgender until she heard a transgender man speak at a local church.
"I was like, 'Holy crap, this is me. Like, this has– this is 100 percent, everything that they're saying, that's me.' And I just melted down. I just started crying and sobbing," Bailar said.
Bailar's parents, family, and teammates have been very supportive of his transition. He has been open about his transition and used his Instagram to update his followers on his journey to being a man.
Bailar was worried that his transition would make him give up his career in swimming.
"I thought that it was going to be me transitioning and being true to being trans or me being true to being a swimmer," Bailar said in a video about his story.
NCAA policies allow athletes who identify as male but were born female to swim on the woman's team if they don't take hormones.
Bailar was originally going to swim on the women's team as a woman but his coach said the athletic part of his life was holding him back from embracing and reinventing himself as a man. Bailar switched to the men's team, although it was hard after being a successful swimmer as a woman. He now, however, feels more at peace now that he can embrace his true identity.
"Switching over to the guys, and competing as a guy makes me much, much less competitive," Bailar told the Amercan Sports Network. "It's not nearly as possible for me to beat the next guy. That's not to say it's impossible. With time and with training, maybe some of it is possible."
Bailar uses his social media as a platform to encourage and send positive messages to his fellow transgender folks.

AsAmNews has Asian America in its heart.  We're an all-volunteer effort of dedicated staff and interns. You can show your support by liking our Facebook page at  www.facebook.com/asamnews, following us on Twitter, sharing our stories, interning or joining our staff.