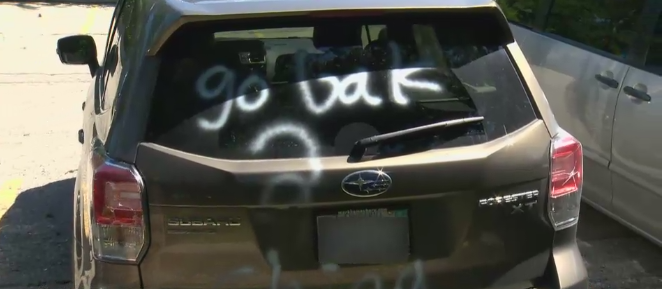 Wiley Ko has lived in Canada for 35 years.

Even after three decades and raising two Canadian children, that feeling of foreignness is hard to kick.

The Toronto man found racist graffiti with bold white lettering scrawled on his car.

The racist slur "ch*nk" along with the word "Go bak (sic) to China" scrawled on the back of his vehicle.

"It really, really hurts. I've been in this country for 35 years and I'll always believe that every person in this country could live equally," KO said to Global News.

"Everyone should be respected. So I don't know why this kind of racism would get to me, would come to me."

Total damage to the vehicle is estimated at $4,000, but Ko says the hurt goes well beyond the monetary damage.

He had parked his car in the parking lot of his apartment complex. The following morning his son discovered the graphic images.

The Toronto Police Hate Crimes unit is investigating.

AsAmNews has Asian America in its heart.  We're an all-volunteer effort of dedicated staff and interns. You can show your support by liking our Facebook page at  www.facebook.com/asamnews, following us on Twitter, sharing our stories, interning or joining our staff.