Abuse victim Ny Nourn is awaiting a decision that could end in her freedom after 16 years in prison.
A hearing was held at an immigration court Friday in San Francisco that could determine whether this Cambodian refugee is deported back to Southeast Asia or allowed to remain in the United States.
Nourn testified via a live video feed from jail in Sacramento about the prospects of being deported to Cambodia.
"Cambodia would have no interest in me or protecting me," Asian Americans Advancing Justice-Asian Law Caucus tweeted Nourn as saying.  "I would be no one to them."
Nourn has expressed fears her ex-boyfriend will carry out her threat of having her killed if she is sent to Cambodia.
In 2003, she was convicted for her role in a murder organized by her abusive boyfriend, Ron Barker.
The two met through an online dating service when she was 16. She says shortly after they met, Barker who is twice her age became controlling and manipulative. He began threatening to hit her, forced her to help him take out credit cards in her stepfather's name and racked up tens of thousands of dollars in debt, according to Broadly. She said he threatened to kill her if she ever left him.
Nourn began dating her boss David Stevens when she was 18. The two had sex, but when Barker found out, he responded by hitting and raping her, said Nourn. Barker threatened to leave her. She feared he would become even more violent if the two broke up. Nourn said Barker came up with a plan to kill Stevens and demanded that she help.
"He was not going to let me out of his car until I agreed. He had already put his hands on me and raped me," she said to Broadly.
Nourn told Stevens her car had broken down and he needed to come to assist her. Barker posed as Nourn's brother and shot Stevens twice in the head. Stevens is serving a life sentence for that murder. Nourn spent 16 years in prison before being let out on parole.
"I was taught to be submissive from a young age. In order to not be beat, I had to be quiet."

Her taste of freedom was short lived. Immigration agents waited for her outside of prison and took her immediately into custody to begin deportation proceedings.
"I got overwhelming feelings of joy, excitement, that I'm finally leaving prison," she said in a phone call from the jailhouse. "But yet, in reality, I'm not free. I will [still] be detained," she said prior to her release.
Professor Katherine Brickell testifed from London on behalf of Nourn at her immigration hearing Friday. She says 1 out of 3 women in Cambodia report being emotionally abused in Cambodia. She said victim blaming is institutionalized in Cambodia and that Nourn would struggle in Cambodia because she does not speak the language and would not be taken seriously.
A decision is expected on Nourn's case in two weeks.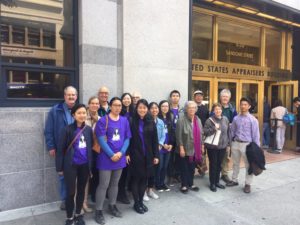 In a letter to her supporters, Nourn wrote from jail in July:

"I have come too far to remain silent as I did so many times before while surviving abuse and in my courtroom trials. Today, with my heroes at the Asian Law Caucus and with your support, I refuse to allow the deportation system to run its course and dehumanize me. I'm told that as a lifer and "aggravated felon" that it is nearly impossible for me to fight deportation. But, I was also once sentenced to life without the possibility of parole and told I'll never leave prison. I've learned that justice doesn't prevail on its own. Justice requires that we stand firm and speak up."
AsAmNews has Asian America in its heart.  We're an all-volunteer effort of dedicated staff and interns. You can show your support by liking our Facebook page at  www.facebook.com/asamnews, following us on Twitter, sharing our stories, interning or joining our staff.