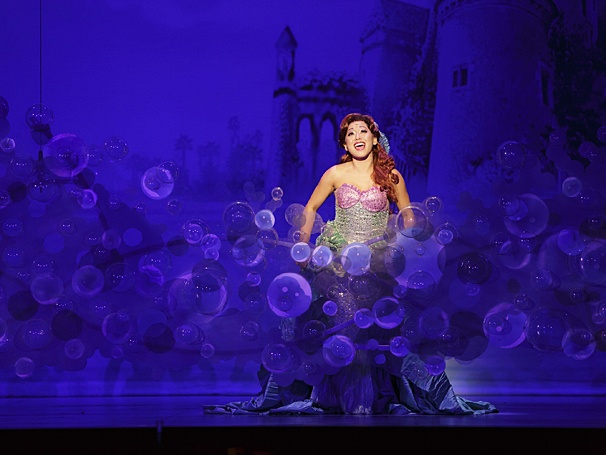 Diana Huey is making a splash playing the lead as Ariel in the traveling production of Little Mermaid, the play based on Disney's animated classic.
The casting of the Japanese-born Huey, unfortunately, hasn't pleased those who are offended by an Asian American playing a role usually portrayed by White women. Apparently mermaids in their eyes are only White.
"It's hard not to take it personally," Huey said to the Buffalo News. "I had kind of a funky first part of the show and I was like, how do I get out of this? I can't let that affect me."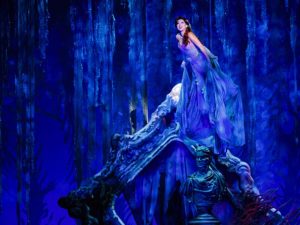 Director Glen Casale defending his casting decision simply saying he auditioned 50 women and Huey was the best for the role.
Six-year old Cora Baisden needed no convincing, according to the Commercial Appeal.
She's always dreamed of being a mermaid and when the opportunity came to see the production, her mother jumped at a chance to get tickets to the Nashville show.
Cora is blind, but the theater accommodated her by supplying a set of headsets and having someone narrate what was happening on the stage.
After the show, Cora got a chance to meet Huey.
"YOU GUYS. I'm CRYING," Huey posted on Facebook after meeting Cora. "I was walking up the aisle to leave the theater and get some much needed food when I was introduced to Miss Cora. I was a puddle. She is a beautiful, curious, polite, lover of mermaids six year old – who also happens to be blind. I got down on my knees and wanted to talk to her forever. She was the SWEETEST little girl. I had her feel my eyelashes from the show which I still had on – and she curiously felt my street clothes and asked where my mermaid tail was. As an actor, it's so humbling and incredible to have those experiences when you are reminded that your job IS IMPORTANT. That you are given the opportunity to make magic a reality in the world – and to get to do that for the kids is EVERYTHING to me. I am forever changed from meeting sweet Cora and I am so grateful. Be the change you want to see in this world and make it a better place."

AsAmNews has Asian America in its heart.  We're an all-volunteer effort of dedicated staff and interns. You can show your support by liking our Facebook page at  www.facebook.com/asamnews, following us on Twitter, sharing our stories, interning or joining our staff.