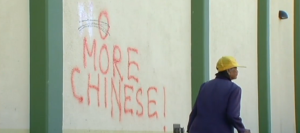 Millennials are known to be the most diverse generations in U.S. history.
A new survey from GenForward, however, has found a sharp divide between Blacks, Latinx, Asians and Whites on issues, reported the Washington Post
The survey found on these issues, Asian Americans are more closely aligned with Whites than Blacks and Latinx.
Just 14 and 15 percent of Whites and Asian Americans see racism as a top three issues affecting the United States versus 35 and 27 percent for Blacks and Latinx.
Police brutality is listed as a top problem for 27 and 13 percent for Blacks and Latinx versus seven and three percent for Asians and Whites.
For Asian Americans, health care, education and climate change were the most pressing issues. African Americans also listed health care as a top concern, followed by racism and police brutality. For Latinx, immigration, health care and racism ranked in the top three. For Whites, the top concerns were health care, education and terrorism.
Note that health care is a top concern among all the groups. Whites and Asians also listed education as a top concern.

AsAmNews has Asian America in its heart.  We're an all-volunteer effort of dedicated staff and interns. You can show your support by liking our Facebook page at  www.facebook.com/asamnews, following us on Twitter, sharing our stories, interning or joining our staff.