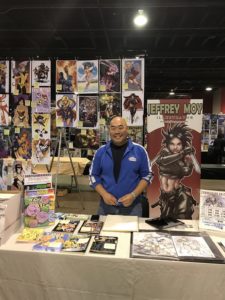 By Sophia Whittemore
AsAmNews Staff Writer
Jeffrey Moy is a star on the Comic Con Circuit, and as I approach him, three dedicated fans are already waiting in line just hoping for his autograph and a quick sketch of their favorite superhero. They hold decade-old sketches they've kept preserved from their first comic book illustrated by Jeffrey
Such is the innate zeal of those in the Jeffrey Moy fandom.
Jeffrey is best known for his work on DC Comics' Legionnaires Series, illustrative development for a time at Activision, and is now storyboarding for Human Head Studios, Inc. in Madison, WI.
His childhood, he said, is the same as that of his twin brother (also a renowned comic book artist) Philip Moy. The brothers grew up in the Chicagoland area as first-generation with parents who came from mainland China. Inspired by a Northern Illinois University illustration professor Mark Nelson, Jeffrey decided that this was where his heart was.
Video game and comic book creation
Growing up on a steady diet of original Star Trek, Star Wars, and Donkey Kong arcade games, Jeffrey knew he had to work hard to make it in the competitive world of comics. Getting a start drawing the Legionnaire series at DC Comics was one of Jeffrey's first largest accomplishments, working his way up as a creative mind. Eventually, both the Moy brothers got to work on Star Trek Voyager comic book story together: Jeff did the penciling, and Philip did the inking.
After many years of hard work, Jeffrey has finally developed a key style of artwork doing storyboards for certain video games or comic book art. The two different illustrative mediums keep him on his toes, but he offers some good advice as a parting quote.
"Just have fun every day."
See more of Jeffrey Moy's work at:
Instagram: artboymoy
Blog: artboymoy.blogspot.com
Website: jeffreymoy.com
****
AsAmNews has Asian America in its heart.  We're an all-volunteer effort of dedicated staff and interns. You can show your support by liking our Facebook page at  www.facebook.com/asamnews, following us on Twitter, sharing our stories, interning or joining our staff.