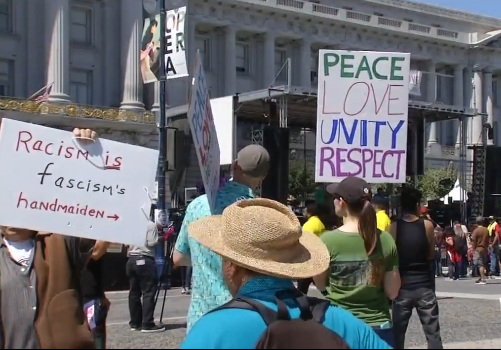 A planned rally organized by Joey Gibson who identifies as Japanese American was thwarted by city leaders in San Francisco and thousands of anti-hate protesters Saturday, report SF Gate.
Gibson of the pro-Trump Patriot Prayer group cancelled a planned a rally at Crissy Field in San Francisco citing potential violence from Antifa, a far left group that has confronted Patriot Prayer at protests across the country. Gibson says Patriot Prayer had been unfairly labeled as a White supremacist hate group by San Francisco Mayor Ed Lee and House Minority leader Nancy Pelosi (D-San Francisco).
Gibson then had hoped to stage what he called a news conference at Alamo Square, directly across the street from San Francisco's famous Painted Ladies-a group of four iconic San Francisco Victorians often seen in pictures.
Protestors vowed to greet Gibson there. Police early Saturday morning completely closed the park by erecting fences around it.
Foiled, Gibson moved his news conference to a small coastal town south of San Francisco, Pacifica. He also made an appearance at Crissy Field where he met about 50 supporters under a shady tree.
"I'm just a rookie," ABC7 reported him as saying. "I don't really know what I'm doing. I'm working, I'm trying to learn, grow."
Anti-hate groups which marched to San Francisco City Hall weren't buying it.
"I want to fight against the hate that's happening in our country. It's part of our duty as citizens," said Leslie Manjarrez, 28, to SF Gate.
Throughout the day, there was only one arrest connected to all the demonstrations and counter-demonstrations. City leaders declared it a victory.
"What you saw today is a city that came together," said San Francisco Police Chief Bill Scott.
AsAmNews has Asian America in its heart.  We're an all-volunteer effort of dedicated staff and interns. You can show your support by liking our Facebook page at  www.facebook.com/asamnews, following us on Twitter, sharing our stories, interning or joining our staff.