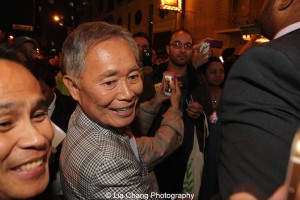 Actor and activist George Takei will executive produce a movie based on the Jamie Ford best seller, Hotel on the Corner of Bitter and Sweet, reports Deadline.
Takei has made telling the story of the incarceration of Japanese Americans during WWII his legacy.
Ford's story evolves around the romantic relationship between a Chinese American boy with a Japanese American girl who is hauled away to an incarceration camp.
Producer Diane Quon bought the film rights to the book and has brought on both Takei and Joseph Craig of StemEnt.
Ford told Deadline that up to now he has been reluctant to turn the book into a movie because producers wanted to change his characters ethnicity.
"With this team, I'm confident that fans will get a satisfying film that remains true to the spirit or the book," he said.
With Takei at the helm, that is almost certain to happen.
"I was captivated by Jamie Ford's novel when I first read it and visualized a compelling film in my mind's eye," Takei said. "I saw the drama of enduring love despite governmental racism, the passage of time and the vicissitude of life. What a wonderful film it would make. Now we are beginning the exciting adventure of making it happen."

Production is expected to start next year.

Also this week, it was announced that the film adaptation of Takei's Broadway play, Allegiance, will get an encore presentation in movie theaters in December, reports Playbill. The showing is meant to coincide with the anniversary of Pearl Harbor. Allegiance originally appeared in theaters last December and again in February on the 75th anniversary of the mass incarceration of Japanese Americans.
AsAmNews has Asian America in its heart.  We're an all-volunteer effort of dedicated staff and interns. You can show your support by liking our Facebook page at  www.facebook.com/asamnews, following us on Twitter, sharing our stories, interning or joining our staff.