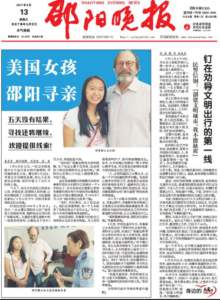 By Olivia Wolf
AsAmNews Intern
(Editor's Note: This is the fifth in a series of blogs on the author's search for her Chinese birth parents. Her trip to China was recently concluded. This is her journal of her travels.)
I had just began the eight-hour train ride to Beijing. So long Shaoyang!
I'm still trying to process the last couple days. So much has happened in so short a time.
On Wednesday, my dad and I headed to Shaoyang University to walk around and see if there were any English speakers there. We had a very friendly taxi driver, who decided he wanted to help with my search.
He convinced us to go back to the old police station and take another look around. He then drove us to another office of the daily newspaper where we met with more reporters. One of them said he'd do another story on me for one of the paper's other platforms.
At the end of the interview, the reporter recorded a short video of me introducing myself. I don't think I'm great in front of the camera, but I gave it my all.
That night the taxi driver contacted me after he had given out more of my flyers. There was a girl who lost her sister who wanted to meet me.
After being warned by so many people to be careful and watch out for scams, I was feeling nervous.
However, when she came to the hotel lobby it was clear that the situation was safe. We soon figured out that her sister was born in 1996—a year after I was brought to the United States. She left after about ten minutes.
My first meeting with a potential birth family member went smoothly in my opinion. If anything, it was just a bit awkward.
The following day, tea man Fred connected us to a translator named Violet, a college student at Shaoyang University majoring in English. Together, with her and the same taxi driver we met the day before, my dad and I set out for another adventure.
Our first stop was the Shaoyang TV station. We spent about fifteen minutes there while Violet explained our story to the staff. They contacted us later, explaining that they would not interview me since the daily newspaper was already reporting my case.
Although this was a little disappointing, I'm still grateful that the newspaper was willing to write about me. Without them, I would not have reached nearly the amount of people that I was able to connect to.
We then made a quick stop at the old police station that had been turned into a fruit market.
The driver left a flyer at the police housing complex the other day, so we didn't have much to do. We left one with a group of elderly people playing games, who didn't seem very happy at the interruption.
Our last destination was a new fruit market, where the driver said many people wanted to meet me. When we arrived, the driver rolled down the window and began talking to an animated woman who was eager to look at me.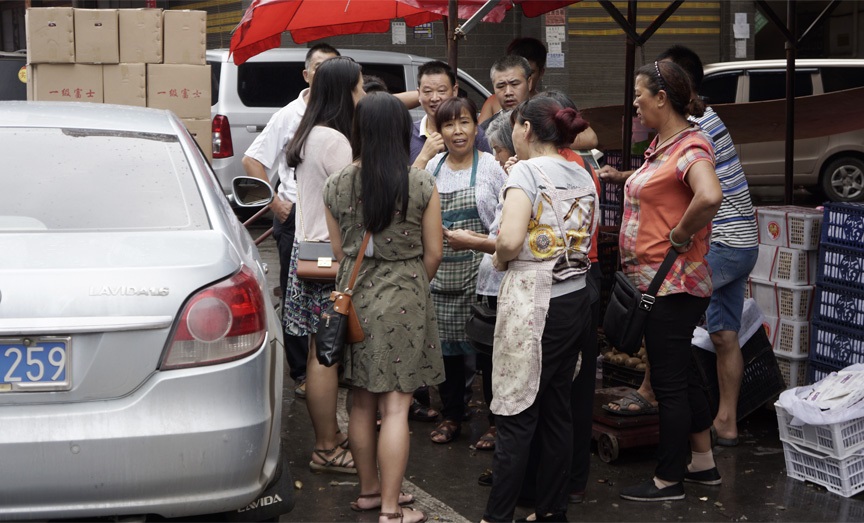 We stepped out of the taxi and soon enough a big crowd was gathered around us. The woman kept repeating my story excitedly to each person who came over. Violet, who grew up in a different province, repeatedly had to tell the crowd that she can't understand "Shaoyang hua," the local dialect.
Although these last few days haven't provided many clues as to where my birth family might be, I feel encouraged that the word of my search is spreading, and people are generally quite receptive to my story.
That night another news article about me was released on WeChat. I began receiving messages instantly.
One boy named Danny contacted me to see if we might be a match. His older sister was lost sometime around January in 1995 or 1996. He really hoped I was his sister. He explained that there were issues with his home situation at the time of her birth, but he'd be looking for her until she was found.
A woman named Lily also contacted me to see if I might be her child. Her daughter was born in March 1995. She and the child's father were arguing a lot at the time, and one day the father took their daughter away and she hasn't seen her since. She believes her daughter was abandoned.
I met with both families the next day. My translator was only free from 1:30-4:00 pm because she had class, so we didn't have too much time.
Danny and the translator arrived at the hotel lobby at 1:30. We went over our stories again and learned more about each other.
It was difficult to comprehend everything because the situations were so complicated and we were speaking through a student translator. On top of that, there was much that the boy did not know or could not remember. His older sister arrived soon after with her baby.
While I was a bit nervous and excited at first, the encounter also felt somewhat casual. I kept trying to compare our faces, our skin color, and our bodies. I don't think we looked much alike, although that's not always a great indicator of whether two people are related.
At 3:00 pm, Lily arrived while the brother and sister were still there. If my meeting with them felt casual, Lily's was anything but.
We stood up to shake hands. Thoughts ran through my head like, Is this really my birth mother? and Is it weird to shake hands the first time you meet someone who might be your mother?
During our conversation, Lily seemed shaky. When she talked she spoke with a sense of urgency. My heart was racing at this point. Her emotions were so tangible that when she began to tear up it was difficult not to cry as well.
My heart broke for these two families, and for all those who have lost their relatives and are desperately trying to find them. Although I doubted that I was related to any of these people, I very much wanted to be just so that all of our searches could end. I hate to think that I will likely be another disappointment to them.
I regret that I didn't prepare better for this trip. I should have brought DNA tests from the United States. Since I didn't, we took samples of their hair and sealed them in an envelope.
An organization called DNA Connect also sends kits to birth families in China for free, since many cannot afford them. I contacted one of the organizers on WeChat and connected her to Lily and Danny. If I am not their family, I hope that one day they can find them.
I continued to message the families on WeChat after they left. Lily sent me a Chinese song and told me to listen to it. I told her I liked it even though I couldn't understand the lyrics. Although I was composed at our meeting, the song made me tear up a little.
Others have contacted me too, wishing me luck in my search, welcoming me back to China, and telling me their stories about lost loved ones.
I feel like I stirred up Shaoyang, and now I'm leaving with unfinished business and still so many unanswered questions. However, I don't think that spending more time there right now would necessarily help that much.
News of my search will continue to disseminate, and more families will hopefully come forward. I will continue to stay in contact with the reporters and those who are willing to help me in China, and I will also continue to search for jobs and live my life in the United States.
*Some names have been changed
**This story was written on Thursday 9/14/17
AsAmNews has Asian America in its heart.  We're an all-volunteer effort of dedicated staff and interns. You can show your support by liking our Facebook page at  www.facebook.com/asamnews, following us on Twitter, sharing our stories, interning or joining our staff.