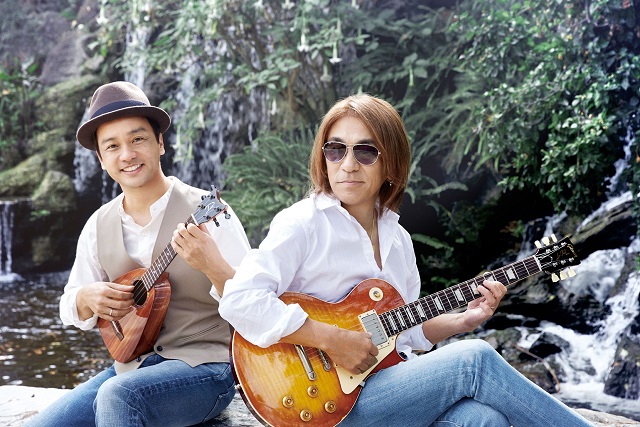 By Sophia Whittemore
AsAmNews Staff Writer
Tak Matsumoto is the superstar guitarist of B'z (pronounced Bizu), a rock duo from Japan that shatters records. In 2007, B'z became the first band directly from Asia that could put their handprints on Hollywood's illustrious Rock Walk. His video below (at 4 million views) Love Phantom   was released in the 90s, and was so popular that it was used as an ending theme in the Japanese version of the X-Files.
Basically, Mr. Matsumoto is a Japanese rock god.
Daniel Ho hails from Hawaii, being a fellow composer and guitarist like Mr. Matsumoto. He sports six Grammy wins. He created DHC (Daniel Ho Creations) in the 90s, and has even served as a cultural ambassador for U.S. Embassies. His Hawaiian language cover of Prince's Nothing Compares 2 You appeared at the end credits of Forgetting Sarah Marshall.
Here's a video of his performance at the Grammy's 2009 below.

Ho and Matsumoto will be performing at the Japanese American Cultural & Community Center on October 14 at 7:30 pm. Tickets are available at JACCC.org.

They'll be speaking at the Grammy Museum in Los Angeles on October 10 at 7 p.m. Tickets are available at GrammyMuseum.org

1. Tell me a bit about your identity/heritage and what it means to you.I was born and raised in Hawaii and moved to Los Angeles when I was eighteen to pursue a career in music. I have been here ever since. My grandparents spoke Cantonese, but it was not passed on through the generations. I'm not exactly sure what part of China my ancestors are from and I probably identify a bit more with Hawaii's multi-cultural heritage. As hard as I try, I still can't get rid of my pidgin English!
2. What's your greatest achievement in music? Tell me about what you were feeling then, and how it affects the rest of your life/work.
I think it was when I won my first Grammy Award in 2005. I have always worked as an independent musician (I still do), and believed those golden gramophones were reserved for major label artists who record in expensive studios and tour the world. The Grammy has afforded me the opportunity to collaborate with many wonderful musicians and perform internationally. It is an honor I'm truly grateful for and never take for granted.
3. Any funny stories about first learning your craft?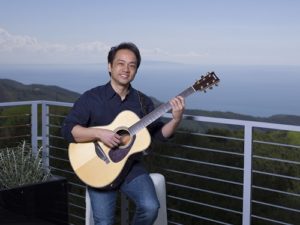 As a kid, I was always interested in learning different instruments. I started on the organ in 2nd grade, then the 'ukulele, classical guitar, piano, drums, voice. Essentially, I was a perpetual beginner so there were many funny moments—funny for everyone else, but red-faced, embarrassing, full-color, high- definition memories for me!
4. How did you begin your career? Did it start with a bang, or was it gradual?
My professional career began in 1990 as the leader of a contemporary jazz group, Kilauea. We had #1 records on the national airplay charts and top ten albums on Billboard. One of my dreams was to see the world through my music and I was pretty excited to be performing all over the US. The most memorable show was a noontime concert for the radio station CD101 which took place between the two World Trade Center towers in New York. It has certainly been a gradual process and I'm happy to simply be spending every day doing what I love.
5. Was there ever a challenge you thought you'd never overcome?Singing has never come easy for me. I love it and feel it is the most expressive way to communicate. There are infinite variations in tone, phrasing, range. It is also so personal. You can't just go out and buy another instrument if you don't like the one you have! A few years ago, I sang Nothing Compares 2 U during the closing credits of the film Forgetting Sarah Marshall. I finally felt like I was starting to get the hang of it.
6. How do you best reach out to your fan base?
I'm relatively new to the world of social media. A friend impressed upon me the importance of staying in touch with friends and fans by posting regularly. I enjoy photography and the iPhone 7+ has made the process convenient and a lot of fun.
7. Tell me about what it's like working as an AAPI community member on the circuit? How does your background come into play in relation to your work?
I feel support from the AAPI community here in Los Angeles and do a number of community events each year. The 'ukulele and the uplifting music of the Islands is a big part of who I am.
8. Tell me all about your recent projects.
Earlier this year, I released an original instrumental album with Tak Matsumoto entitled Electric Island, Acoustic Sea. Tak is a wonderful electric guitarist and the founder of the rock group B'z, who have sold 80 million records in Japan over their 30 year career. We did 24 sold-out shows in Japan and Hawaii and it was amazing to witness his management team and record company in action. Their production value was the best I've ever seen and it was fun to experience how a real rock star tours! Even if it was just for a few weeks. Our tropical rock album features instruments from our island cultures of Japan and Hawaii like the 'ukulele, slack key guitar, ipu heke, sanshin, koto, and taiko.