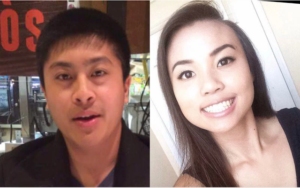 Two bodies family members believe to be the missing hikers from Southern California were found embracing one another on a trail in Joshua Tree National Park.
The bodies are believed to be Joseph Orbeso, 21, of Lakewood and Rachel Nguyen, 20, of Westminster.
Although the confirmation of the identities await an autopsy report and DNA tests, which could take up to several weeks, Gilbert Orbeso is certain they are his son and his son's girlfriend.
"I feel that we have closure and we know we found them. That was our main goal was to find them … Hope they can rest in peace now," Gilbert Orbeso said.
The couple had been missing since July 28. Their car was found parked near the entrance to the Maze Loop trail, a 4.5 mile trail that winds through the desert rocks, shrubs and ravines and features several elevation changes as it winds through the remote canyon of the park.
In late July, the temperature reached over 100 degrees.
Sunday, Gilbert Orbeso was part of a search team exploring a wash a few miles from Maze Loop, where he found pieces of clothing, water bottles and food wrappers.
"We know we found them. That was our main goal, to find them," said Gilbert Orbeso, who frequently joined the months-long search efforts that involved family members, friends, volunteers and law enforcement on the ground and in helicopters.
"I believed that I was going to find them. I didn't know when, but I had my answer," he told KESQ.
AsAmNews has Asian America in its heart.  We're an all-volunteer effort of dedicated staff and interns. You can show your support by liking our Facebook page at  www.facebook.com/asamnews, following us on Twitter, sharing our stories, interning or joining our staff.