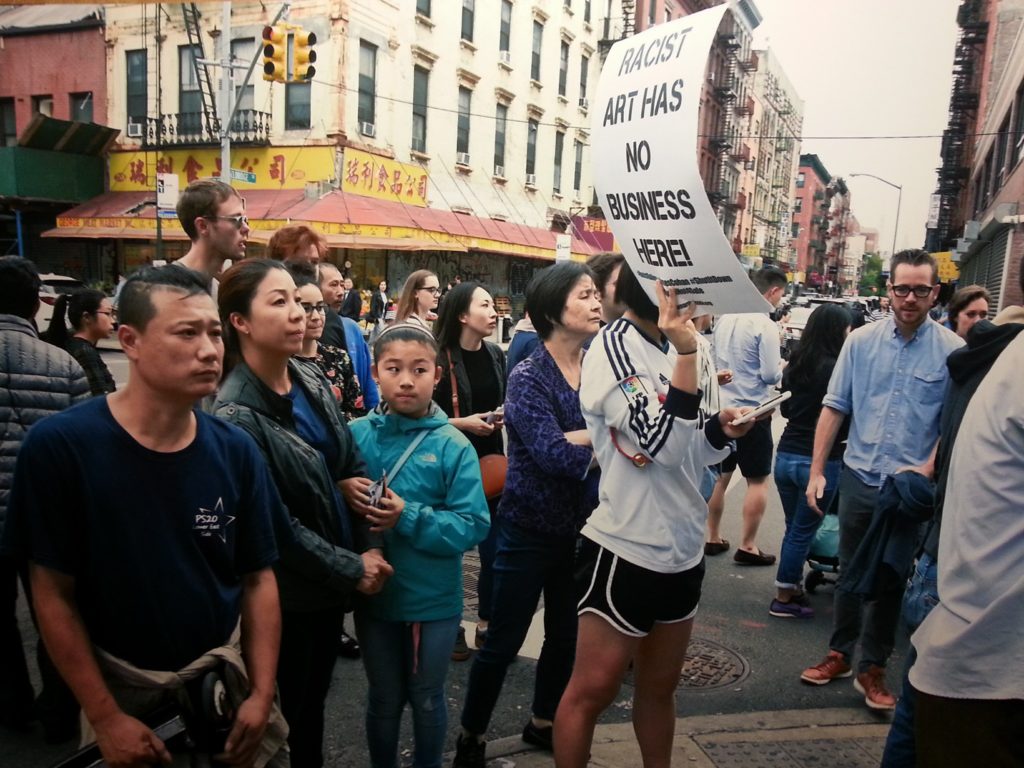 Dozens of protesters entered an art gallery in New York's Chinatown to protest an installation there they consider racist.
The group said in the statement the work by Omer Fast at the James Cohan Gallery reinforces "racist narratives of uncleanliness, otherness and blight that have historically been projected onto Chinatown."
The Chinatown Art Brigade describes "purposely constructed dents and holes in the wall and furniture, graffiti, broken ATMs, Chinese menus and a tarnished awning."
"Not only does this guise have little to no bearing on the actual works being shown, the choice of visual signifiers is a racist aggression towards the community of Chinatown that James Cohan Gallery is currently gentrifying."
What does the James Cohan Gallery say about all this?
So far nothing. They have not returned inquiries from AsAmNews for a comment. Neither has the gallery commented to DNA Info or Hyperallergic.
Protesters greeted patrons entering and exiting the gallery with boos Sunday and shouts of "shame," according to DNA Info.
One patron forcibly shoved a protester aside as she exited.
"I was trying to occupy the space again, and being physically shoved out of the space was really symbolic," Chinatown resident Wing Ng said.
One passerby who was not aware of the issue until seeing the protest expressed his support to Hyperallergic.
"The action was beautiful and people were rebelling back against racism," said artist Fulathela. "As you can see, it's not one race but as you can see it was beautiful to see people getting together as humans, not as one thing but it's about people being people for what is right and what's wrong."

AsAmNews has Asian America in its heart.  We're an all-volunteer effort of dedicated staff and interns. You can show your support by liking our Facebook page at  www.facebook.com/asamnews, following us on Twitter, sharing our stories, interning or joining our staff.