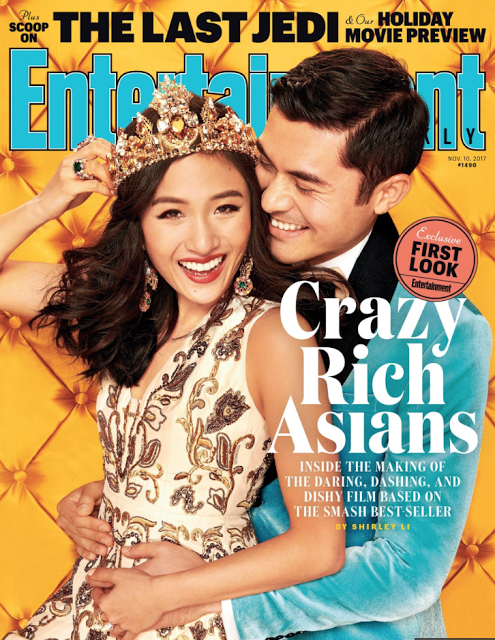 Be sure to grab this week's cover of Entertainment Weekly for your collection of historic Asian American literature.
The magazine features a collection of articles about the upcoming movie Crazy Rich Asians based on the Kevin Kwan novel of the same name. The movie is set for an Aug. 17 premiere.
The cover itself is startling, featuring lead actors Constance Wu and Henry Golding. Having an Asian couple not in superhero costumes or in martial arts poses is groundbreaking.
EW dives into the making of the film, from Kwan's first meetings with eager producers to Chu's ambitious mission to cast responsibly, and finally, to filming on location amid the splendor of Singapore and Malaysia. The author and director weren't the only ones with stories to share of the book's move from the page to the screen; Wu, Golding, Yeoh, and fellow cast members Gemma Chan, Sonoya Mizuno, Awkwafina, and Ken Jeong also reflect on what it was like to not be the only Asian face on set.
The EW interview with Henry Golding, who plays the romantic lead, is interesting to have his perspective of the casting controversy. Golding, who is racially half-Malaysian and half-European stirred up controversy from fans who'd hoped the role would go to an all-Asian actor. Actress Jamie Chung even commented on the casting, initially calling the choice to cast the mixed-race Golding "bulls—" before walking back her remarks, saying, "It goes both ways. It's just frustrating to lose a job or not have a shot at it (because) of your race."
The commotion over his casting felt "quite hurtful," Golding tells EW. "For me, it was almost like being kind of stabbed in the back. I was like, 'Aren't we meant to be in this boat together? Aren't we meant to strive together for something bigger than these boundaries that we're putting on ourselves instead of bullying each other?'"
Kevin Kwan's debut novel was snapped up by The Hunger Games producer Nina Jacobson just four months after hitting shelves in 2013, and it's not hard to see why: The real-life, jaw-dropping opulence of Asia's über-rich is perfectly suited for the big screen.
The title can be interpreted a number of ways: Either the rich Asians featured in the book are crazy; or the Asians are crazy rich.
In his Crazy Rich Asians novel, the first of a trilogy, New York City-based Kwan details outrageous luxuries, from climate-controlled closets packed with next season's couture pieces (why, of course!) to yachts equipped with swimming pools (yes, more than one!) and even to private planes with state-of-the-art yoga studios and heated floors (why not?!). His subjects aren't just crazy rich, but filthy, unspeakably, hilariously rich.
The story's even crazier, says EW. Directed by Jon M. Chu (Now You See Me 2), Crazy Rich Asians follows Rachel Chu (Fresh Off the Boat's Constance Wu), an NYU economics professor who heads to Singapore with her boyfriend, Nick Young (newcomer Henry Golding), for what she thinks will be an ordinary visit to meet his family and attend his best friend's wedding, only to discover that he's the multi-zillionaire scion of one of the most affluent families in Asia and the wedding they're headed to is the social event of the year. To make things worse, the clash between the cultures of practical American Rachel and the rarified air of the uber-rich 1 percent of the 1 percent complicates the relationship between her and boyfriend Nick.
It will be interesting to see the reaction of non-Asians to seeing Asians in roles that go beyond being the best friend, the loyal servant, the exotic temptress or the super smart geek. Kwan's characters could burst a few stereotype bubbles.
From the outset, author Kwan and director Chu insisted that the movie stay true to the novel and feature an all-Asian cast despite pressure to make the Rachel character white.
That casting decision puts the movie in a rare category in an industry that's still working on breaking its habit of "whitewashing" (i.e. casting white actors in ethnically Asian roles). Few Hollywood films have exclusively featured Asian principal casts since The Joy Luck Club more than two decades ago.
Michelle Yeoh, a superstar in Asia, has had only a handful of lead roles in Hollywood productions, understands the significance of Crazy Rich Asians. "It's been too long since there's been an all-Asian cast," says the Malaysia-born actress, who stars as Nick's intimidating mother, Eleanor. "I've been very lucky to have worked on one before (2005's Memoirs of a Geisha), but they're too few and far between."
AsAmNews has Asian America in its heart.  We're an all-volunteer effort of dedicated staff and interns. You can show your support by liking our Facebook page at  www.facebook.com/asamnews, following us on Twitter, sharing our stories, interning or joining our staff.