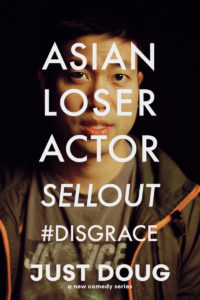 By Gaby Wy
AsAmNews Intern
Doug Kim wants to make change in an industry that he feels doesn't represent Asians like it should.
Kim, a Korean American, produced and recently released a three-part web series called Just Doug, a narrative of a character based on himself struggling to make it in Hollywood. It's one of the first series picked up by Facebook Watch, a new streaming service.
In the series, Doug finds himself in a predicament—he books a guest star role on a prominent television series, only to be told to exaggerate an Asian stereotype with an accent onscreen.
"I started thinking about making this when I felt like I was taking one step forward and a lot of two steps back in the industry," he said to AsAmNews. "In 2014, I was in a place in my life where I was kind of like, 'Am I supposed to be in this industry or do something else with my life?"
Kim decided to take the "little moments" in his life and translate them into Just Doug.
"There's story in everyone's life," he said. "It doesn't have to be a superhero saving the world."
Kim teamed up with a writer in 2015, and after about a year, they had a pilot episode written. After hiring a director, production took place in 2016.
"A lot of it is inspired by actual events and stories I've talked about with actor friends of mine," he said. "I'd say 30 percent is true to my life. I was still asked to do this accent for a North Korean role. I don't speak a lick of Korean."

In the series, Kim's real life is on display. He references his past as an ESPN poker contestant and in the first episode, living in Hollywood. He meets an Asian American woman for a date, and she says he's not his type.
Throughout the episodes, Kim speaks to his parents—who aren't actors.
"I flew them to LA," he said. "My mom wants everyone to know I'm a different person now than I am in the show. I wanted to highlight those struggles I had growing up. I plan to go into more of (me and my parents' relationships) more in depth. The whole Asian parent relationship portrayed in the media is like this tiger mother, but it's more nuanced than that. I definitely want to explore more of that."
Dan Chen, the director for the series, said Kim's passion for telling an Asian American story resonated with him.
"It came at a time in my life where I hadn't really explored my Asian identity yet," Chen said. "For him to come to me with his own story was a way to connect with myself."
He said the lack of Asians in the media is one of the most visible issues the community faces.
"I could tell that Doug was really digging into a lot of his own life," Chen said. "He was unafraid of looking into and exploring issues related to his identity."
He said he hopes viewers will relate to Just Doug and empathize with his struggles.
"Asian American millennials don't get that much representation," Chen said. "It's nice to spend a whole half hour with an Asian American character, identifying with them. Media is all about being able to put yourself in anyone's shoes. That's cool, and that's a privilege."
Kim and Chen said they hope more and more people see the series so that more episodes can be produced.
"I just really hope that people get to see it," Chen said. "Doug has put a lot of himself into this, not only personally but with the honesty of his storytelling. I'm hoping people see this and talk about it."
Kim, who self-funded the first three episodes, said he hopes he can team up with a network or studio to produce the rest of his narrative.
"The immediate outcome I hope for is to be able to make a season and see what happens," he said. "I want to be able to write more stories."
Kim said ultimately, he wants to show Asian Americans in a different light.
"A lot of the time, people in Asian American culture say we need to be badass or a superhero and that'll make us big," he said. "But I really think that humanizing Asian American characters and making them more relatable is more powerful. It says to other Americans that we have the same thoughts and desires as you. We're not so far after all."
Kim's series is available at https://www.facebook.com/justdougseries.
AsAmNews has Asian America in its heart.  We're an all-volunteer effort of dedicated staff and interns. You can show your support by liking our Facebook page at  www.facebook.com/asamnews, following us on Twitter, sharing our stories, interning or joining our staff.