Senator Al Franken ( D-Minnesota), a progressive politician, is in a heap of trouble because of his treatment of a Filipina American deejay during a USO tour.
Los Angeles radio host Leeann Velez Tweeden tweeted that Franken kissed her without her consent and fondled her breasts while she was asleep during a 2006 USO Tour in the MIddle East.
Inspired by the #MeToo campaign that was launched by the women making public the sexual assaults and harassment by movie mogul Harvey Weinstein, Tweeden told how Franken wrote a comedy skit that ended with a kiss. During a rehearsal of the skit, Tweeden claims that the senator grabbed her behind her neck and forcibly kissed her, forcing his tongue into her mouth.
She pushed him off and told him not to do that again. She said she went to the bathroom to rinse the taste of him out of her mouth.
Franken apparently didn't stop there. At the end of the tour on the flight back to the U.S., a photograph was taken of Franken appearing to grope the breasts of a sleeping Tweeden with the senator leering back at the camera.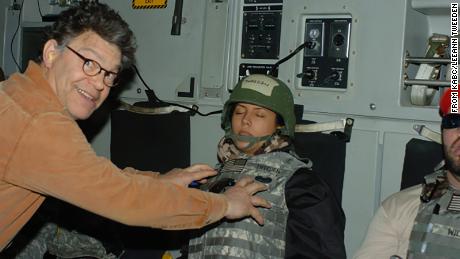 "I certainly don't remember the rehearsal for the skit in the same way, but I send my sincerest apologies to Leeann," said Franken. "As to the photo, it was clearly intended to be funny but wasn't. I shouldn't have done it."
"Nothing about it is ever funny," said Tweeden. "Is it funny if he does that to your sister, to your daughter or to your wife?"
When the incriminating photo was made public, Franken personally apologized to Tweeden and she said that she accepts the apology. Tweeden said she accepted Franken's apology and was not calling for Franken to step down from office.
Franken has called for an ethics investigation on himself, and said he would gladly cooperate. But that might be too late for his political career as calls for his resignation, to the delight of his enemies on the right and sadly by former liberal allies.
Tweeden is not the first Filipina who has spoken out about sexual assault and harassment. One of the first women to speak out was Ambra Battaliana Gutierrez, an Italian model with Filipino heritage, who told the story of her encounters with Harvey Weinstein. Since an article about her meetings with the Hollywood power broker became public, more than 70 women have come forth to tell their experiences with Weinstein.