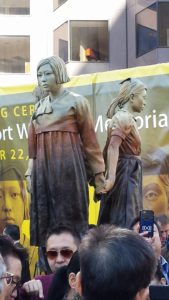 Despite continued protest from Japan, the City of San Francisco officially accepted the Comfort Women Statue this week, reported the BBC.
Mayor Ed Lee signed the paperwork the same week the City of Osaka in Japan officially broke its sister city relationship with the city by the Bay in protest.
The existence of the Comfort Women and a campaign by survivors to bring light to the issue worldwide has long been a sore point for Japan. Although the country has apologized for the slavery of thousands into sexual servitude during World War II, many conservatives continue to deny their existence claiming the women did so voluntarily.
"Erecting comfort women statues in the United States and other countries is in conflict with our country's stance and extremely regrettable," Japanese Chief Cabinet Secretary Yoshihide Suga said Friday, according to Reuters.
The statue in San Francisco was officially dedicated in September. It's inscription reads : "This monument bears witness to the suffering of hundreds of thousands of women and girls euphemistically called 'Comfort Women,' who were sexually enslaved by the Japanese Imperial Armed Forces in thirteen Asian-Pacific countries from 1931 to 1945".
AsAmNews has Asian America in its heart.  We're an all-volunteer effort of dedicated staff and interns. You can show your support by liking our Facebook page at  www.facebook.com/asamnews, following us on Twitter, sharing our stories, interning or joining our staff.