By Mandy Day
AsAm News Staff Writer
In recent decades, the world has become more interconnected with immigration playing a pivotal role across all aspects of our society. In past years, documentaries about various immigrant experiences have made waves in the film industry. Recently, at the San Diego Asian Film Festival, Island Soldier (SDAFF Audience Award), Maineland, and My Enemy, My Brother (SDAFF Grand Jury Award) documented the experiences of three diverse groups of people. From Chinese high school students studying at an elite prep school in the United States, to two men forming an unbreakable bond after fighting on opposite sides of a brutal war, stories like these are woven into the fabric of Western democracies.
As prominent Chinese families seek to give their children the best educational opportunities, many have turned to the United States to prepare their teenagers for entrance to the world's top universities. Maineland chronicles the lives of two students, Stella and Harry, both from wealthy Chinese families who enroll at Fryeburg Academy in Maine. The school sees international students as a solution to their declining domestic applicant pool, and recruits heavily in Asia. One of the oldest private secondary schools in the country, the majority of their international student body comes from China.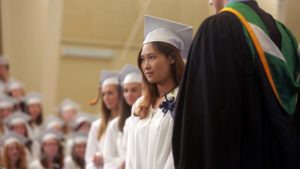 Stella and Harry were followed for three of their high school years, beginning with the application process to Fryeburg.  Stella, an aspiring teacher with an outgoing personality, explores the many facets of American high school life, including cheerleading. She dates and fully embraces her independence from her unstable home life. Harry, a musician with a more reserved demeanor, enjoyed playing video games. It is in the U.S. that Harry gains a Western perspective of Chinese history, including the protests in Tiananmen Square.
Among the dozens of students who appeared in the film, each had their own dreams, often differing from what was written on paper. In Maineland it is evident that some of the teenagers wished to remain in the United States, tp become citizens and develop careers separate from the paths their parents took. Other students dreamed of returning to China to work with their parents or bring progressive values back in order to change their home country and its education system. As these young adults navigate the complicated adolescent years away from their families, viewers are given a rare look inside the lives of young Chinese students as they discover themselves in a setting completely unique to their upbringing.
Moving to a new country presents many obstacles for immigrants, young and old. In My Enemy, My Brother, two men, one Iranian, one Iraqi adjust to life in Canada. This riveting documentary by Ann Shin, slowly unravels a complex connection between Najah Aboud and Zahed Haftlang. Both men survived being soldiers in the Iran-Iraq War, as well as years of torture at the hands of their captors. Haftlang, an Iranian child soldier, lives in Canada with his family. Throughout the film, Haftlang struggles to find peace with his dying father, who is in Iran. All the while he struggled with the trauma caused by being a prisoner of war, and the abuse that led him to flee his family home for the frontlines. A man in his late forties, Haftlang's connection to Aboud dates back to a chance encounter during the war. Decades later, the two would meet again…this time in a center for survivors of torture in British Columbia.
Najah Aboud survived seventeen harrowing years as a prisoner of war in Iran. Separated from his wife and child, he resettled in Canada after his release, hoping to someday return to find the family he left behind. My Enemy, My Brother spends a significant portion of the film interviewing Aboud about his experience in an Iranian prison. The crew follows Aboud as he travels to Iraq, searching for his wife and child, whose whereabouts haven't been known for more than thirty years. Upon his return, he is reunited with his siblings and extended family in several heart-wrenching scenes that left filmgoers weeping. During this stressful trip to his ancestral home in Iraq, Haftlang travels to meet his friend and lend moral support.
While in Iraq, the men travel to the site where they first met and talk about the battle that led their stories to intertwine. Aboud and Haftlang, once enemies, are now brothers, both immigrants and survivors. My Enemy, My Brother is a must watch film for anyone who seeks to find the good that can be born out of horrific circumstances. While this story has gained media attention around the world, many important stories go unrecognized.
Island Soldier tells the stories of three Micronesian men who enlisted in the United States military. Due to a complex economic and political relationship with the United States, Micronesian citizens are permitted to serve in the U.S. military. The small island nation was ruled by European countries for hundreds of years before the Japanese took over the island chain in 1914. After the U.S. liberated the islands in 1945, the United States took it as a territory until it became independent in 1986. In exchange for financial aid, the U.S. military maintains military control over the oceans within Micronesia's borders.
The film opens with the return of Sergeant Sapuro "Sapp" Nena's remains to his family. He had been killed in action while serving in the Army. His devastated family struggles emotionally and financially after the death of their beloved son. Sapp's father served in the Persian Gulf War, and desperation leads him to ask the military support personnel on his home island of Kosrae for financial assistance.
Economic woes on the islands make recruiting relatively easy for U.S. military personnel. Fishing is becoming more difficult and younger generations are unwilling to farm. Madison Nena, pastor whose son had also enlisted and was profiled for the film, reminisces about the traditions of his ancestors and how they will be lost if more people leave. All of his children had moved away to seek better opportunities. In a desperate attempt to help his people, he travels to Washington D.C. with hope of convincing health agencies and organizations to help veterans in his tiny country. It seems almost immoral to watch as men in fancy suits brush him aside as he fights for people who dedicated themselves to serve a country that wasn't theirs.
In 2023, the United States will be released from its obligation to provide financial aid to Micronesia when the Compact of Free Association expires. The U.S. will maintain complete military control of the islands. A significant portion of Micronesia's government is funded by this agreement and the future remains uncertain for a small country in the Pacific Ocean who has sacrificed so much for the United States.
The Asian Pacific Islander community has played a significant role in the history of North America. Stories of sacrifice, tragedy, and hope are showcased at film festivals like the San Diego Asian Film Festival. Viewers can enrich their conventional education through the work of independent filmmakers who feature people of color, and the fascinating and underappreciated contributions they make to the U.S. and countries around the world.


AsAmNews has Asian America in its heart.  We're an all-volunteer effort of dedicated staff and interns. You can show your support by liking our Facebook page at  www.facebook.com/asamnews, following us on Twitter, sharing our stories, interning or joining our staff.