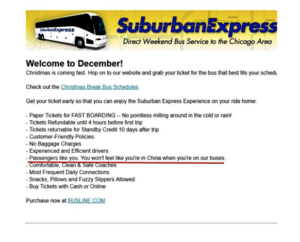 A shuttle bus company which boasted that its riders "won't feel like you're in China when you're on our buses," is now under a civil rights investigation, reports the NY Post.
Suburban Express has been subpoenaed by Illinois Attorney General Lisa Madigan in an effort to determine if the company denied services based on age, race, color, sex, religion, national origin, sexual orientation or gender identity.
According to NBC Chicago, Suburban Express has 30 days to respond to the subpoena.
The company runs shuttles from six universities in the midwest to the suburbs. It sent an email to students at the University of Illinois which listed "passengers like you" as one of 11 reasons to ride their buses.
"I am concerned that this advertisement may reflect that Suburban Express is discriminating against potential customers," Madigan said to the Post. "Under the law, access to transportation must not be impacted or based on a person's race or national origin."
The company used a follow up email intended as an apology went on to complain about the influx of international students at the university.

AsAmNews has Asian America in its heart.  We're an all-volunteer effort of dedicated staff and interns. You can show your support by liking our Facebook page at  www.facebook.com/asamnews, following us on Twitter, sharing our stories, interning or joining our staff.