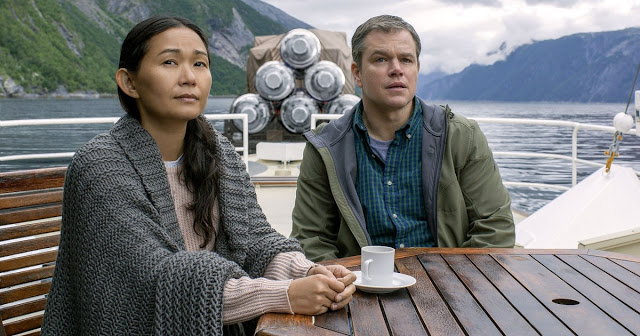 Among the Golden Globe nominees were a few Asian and Asian Americans — not as many as anticipated — but some.
Although the Golden Globes don't have the prestige of the Academy Awards, the recognition by the Foreign Press correspondents is often seen as precursor for the Oscars.
Among the nominees is a surprise–Hong Chau as Best Supporting Actress for her work in Downsizing.
Since 1970, there have only been two other actress of East Asian descent who have been nominated for supporting actress: Tina Chen for The Hawaiians and Rinko Kikuchi in Babel.
But Chau's bold interpretation of a Vietnamese immigrant including a heavy accent (to the point approaching a stereotype) was hard to ignore in the Matt Damon film in which she nearly stole the scenes she was in.

Chau told Entertainment Weekly she is especially grateful for what this means for her parents who immigrated to the U.S. from Vietnam in the late 1970s.

"They know everything about the story because, like most parents, they don't like to be surprised, so I walked them through the entire plot of the story in every single detail," Chau explained. "This is one of those rare occasions where I'm actually able to talk to them about a job and they're excited about it because it's a Vietnamese character that's so closely related to their journey, so I'm excited to share this experience with them."

"This is the type of character who's always in the background," Chau added. "I hope filmmakers will go back and take a look at people whom they thought they couldn't mine drama or entertainment from. There are a lot of characters that have been underdeveloped because people aren't interested or are afraid of attempting to tell their stories. Take another look at them: that's what I hope for."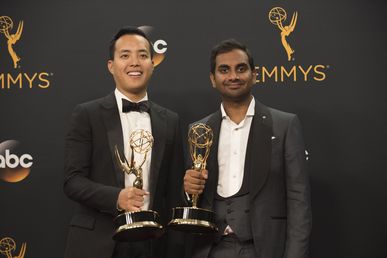 Alan Yang and Aziz Ansari have been here before. The show previously won two Primetime Emmys for writing. The Golden Globe nomination is for Best Television Series – Comedy.

"It's really great,," said Yang to Entertainment Weekly. "it's really wonderful and I'm really proud of what we did in season 2 because one of our goals for this season was to make it different from season 1, and not in a trivial way. You know, we wanted to go deeper, we wanted to be more ambitious, more experimental, and I think the season was more aggressive and more ambitious. I'm glad that it totally didn't turn people off. We took some big swings and I'm happy with how it turned out."

Aziz also was nominated as Best Actor in a Television Series – Comedy.
Awards are also nothing new for Robert Lopez and his wife and song-writing partner Kristen Anderson-Lopez. Their song "Remember Me" from the animated feature
Coco.
The song-writing pair issued this statement:
"We are so grateful to our collaborators at Pixar for asking us to write a song that is so personally meaningful — about family, music, and saying goodbye to those you love. We couldn't be prouder of what these filmmakers have achieved in 'Coco', a film that has always strived to faithfully portray and celebrate Mexican culture. Thank you to the Hollywood Foreign Press — we are humbled by your recognition."
The Filipino American and his wife previously won an Oscar for "Let It Go" from the 2013 Disney pic
Frozen
. The husband-wife team also co-wrote the Tony award-winning stage musical
The Book of Mormon.
Angelina Jolie's film, 
First They Killed My Father
, entered as a foreign language film from Cambodia, was among the nominees for Best Foreign Film. The movie tells the story of
author and human rights activist Loung Ung's life under the rule of the deadly Khmer Rouge.

The foreign press snubbed any recognition for The Big Sick starring Kumail Nanjiani and written by the comedian and his wife. Critics loved the movie and predicted a nod for Best Original Screenplay or a Best Supporting Actor nominations for Holly Hunter and Ray Romano.

The oversight prompted this tweet from Nanjiani's page, purported written by Stephen Spielberg: "Hey gang. This is Steven Spielberg tweeting from Kumail's phone. My fave movie this yr was The Big Sick. It's avail on Amazon Prime & iTunes & all that. Great movie to watch w the fam. I watched it w my family (the Spielbergs) & we all loved it. Handing phone back to Kumail now."

None of the media fell for the hoax, but it was a clever retort because The Big Sick, on several critics' "best-movies-of-the-year" list, was deserving of a nomination in those categories.

Also missing was the understated performance of John Cho in Columbus directed by Korea-born Kogonada. A film without special effects, violence or nudity (well, there's one scene featuring Cho) and about what's important in life and how we relate to others deserves some notice in the super-hero world we live in today.

Cho's restrained performance depicted real person struggling with his past and wondering what the future held for him.