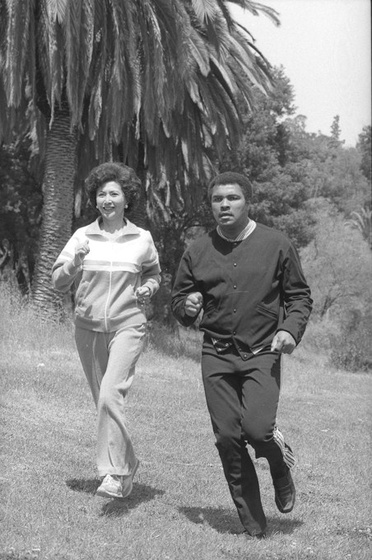 March Fong Eu, the first Asian American woman to hold an elected constitutional statewide office in the United States and who was not shy about using political stunts to gain publicity, has died at the age of 95.
California Governor Jerry Brown and his wife Anne released a statement offering their condolences late this afternoon.
"Anne and I were saddened to learn of March Fong Eu's passing. She was a pioneering woman who helped open doors to public service for more women and Asian Americans. On behalf of all Californians, Anne and I express our deep condolences to March's family."
The Los Angeles Times reports Eu died Thursday following surgery after falling in her home in Irvine.
In 1966, Eu was elected to the first of four term in the California State Assembly. She was elected Secretary of State in 1974 and went on to serve for 20 years. She launched many things voters take now take for granted including absentee ballots, vote by mail, results on the internet and including candidate statements in voter pamphlets.
"Registration by mail was part of my platform … and when I assumed office in 1975, it was a high priority," Eu said to the Orange County Register in 2006. "I felt that in-person registration made it a challenge for many people to register. I opposed this artificial barrier to participation, and made a change in the system my first goal as secretary of state."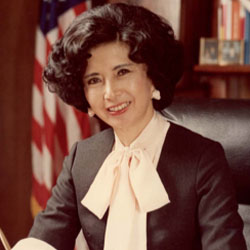 She was also the first woman governor of California in 1976 when she served for one day while Brown was out of the state.
Eu also took up public toilets as part of her platform, railing against businesses that charged people to use the bathroom. In 1969, she made her point by taking a sledge hammer to a toilet lock, but also accidentally smashed the toilet as well.
Governor Ronald Reagan would sign a bill in 1974 banning pay toilets.
She was born in Oakdale, near Modesto, to Chinese immigrants.
In 1988, Eu ran for the U.S. Senate, but pulled out the race so that her second husband, Henry Eu, would not have to disclose his financial holdings.
In 2002, Eu sought to regain her seat as Secretary of State, angered about hanging chads in Florida that may have been the difference in handing George Bush the presidency over Al Gore.
She lost in the Democratic primary.
Her son Matt served four years as California's treasurer beginning in 1995. He died of cancer in 2011.
AsAmNews has Asian America in its heart.  We're an all-volunteer effort of dedicated staff and interns.  Check out our Facebook page  and our Twitter feed,  Please consider interning, joining our staff or writing a story or two.