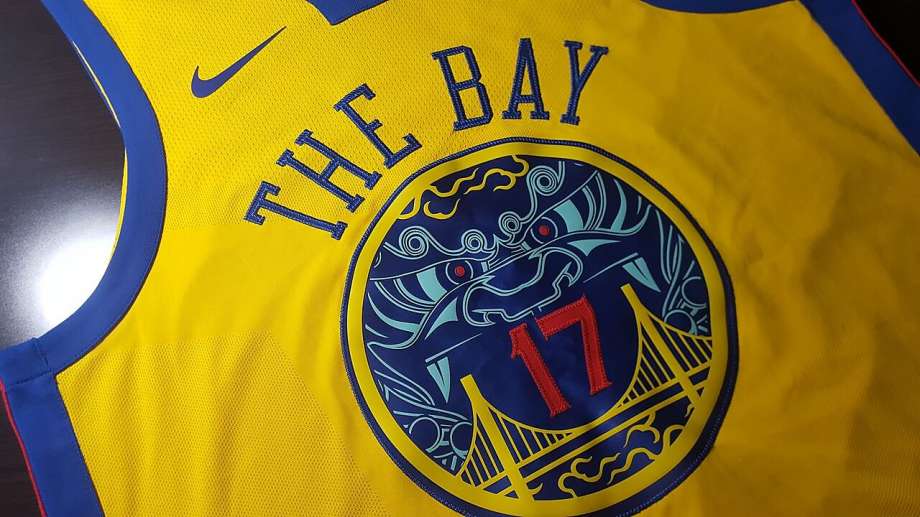 By Louis Chan
AsAmNews National Correspondent
The world champion Golden State Warriors have just released their new alternative Chinese heritage uniform.
It continues a trend in the NBA to market not only to Chinese and Asian American fans, but to fans in Asia as well.
The uniform which merges the Bay Area's Golden Gate Bridge with a Chinese dragon is the second Chinese uniform released by the Warriors.
The Warriors are also extremely popular in China. The team played two pre-season games there-one in Shenzhen and the other in Shanghai. Fans greeted the Warriors where ever they went, with the players being treated as rock stars.
Check out the reaction to Steph Curry during a promotional event for Under Armour.
Then there's Klay Thompson's failed dunk in China that made him the darling of fans there.
The Warriors plan to wear their new alternative Chinese uniform at several games this year beginning with their match up with the Minnesota Timerwolves on January 25.
"We worked closely with Nike on what could be a cool, more edgy reflection of Chinese culture in the Bay Area," said Chip Bowers, Golden State's chief marketing officer, said to the San Francisco Chronicle. "Nike and us went through a lot of the imagery and iconic images around Chinatown, going back to the gold-rush era."
AsAmNews has Asian America in its heart.  We're an all-volunteer effort of dedicated staff and interns.  Check out our Facebook page  and our Twitter feed,  Please consider interning, joining our staff or submitting a story for consideration.