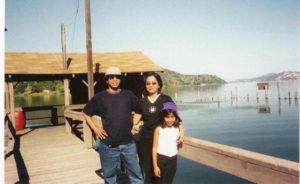 By Brittney Le
AsAmNews Staff Writer
With immigration reform expected to come soon, many undocumented students in the U.S. are uncertain of what the future holds for them. Kenzi Hilario, along with many other undocumented API students, are continuing to work hard to fight for immigration policies that are fair and inclusive.
On Thursday, President Trump met with Republican senators to discuss immigration; he has been pushing for a wall at the U.S.-Mexico border and an end to "chain migration" in exchange for protecting DACA recipients. However, that leaves out the many undocumented immigrants, including Hilario, who aren't protected by DACA.
Hilario, 22, came from the Philippines when she was seven years old in 2002. Her family's intentions were to come to the United States legally, with many relatives on her mom's side already in the States as legal permanent residents or citizens. Those family connections got her dad a work visa. During their legal stay, her younger brother was born in the U.S. However, when the work visa expired in 2008, her dad's application to extend the visa was not approved, forcing her family back to the Philippines for two years, during which Hilario went to high school. Her younger sister was born during this return to the Philippines.
"It was so hard to start over because of the economy and the environment," Hilario said of her 2-year return to the Philippines. "The political climate there was not so great either, and it was an uncomfortable place to be when we were used to American culture."
Her parents then decided to take a risk and return to the U.S. with a tourist visa, still not intending to overstay. They applied to so many different types of visas, only to get rejected each time. Her parents tried to start a business for a visa, and her father even tried to return to his company to get a work visa, but both attempts failed. They were then met with a choice to make.
"My parents knew that I wanted to pursue journalism and they knew the colleges here would provide more opportunities for me even though we were undocumented," Hilario told AsAmNews. However, the opportunities here were still very limited for her.
At a time in high school when all her friends were learning to drive, AB 60 was not yet in effect (which allows undocumented people in California to get driver's licenses), keeping Hilario from doing as any normal high school student could-drive. College became another obstacle to face. "I didn't really start feeling the frustrations of being undocumented until I started applying to college," she said.
Hilario applied to Deferred Action for Childhood Arrivals (DACA), only to get rejected due to the 2-year period she spent in the Philippines. She also applied to the California Dream Act, but because she had only spent 2 years of high school in California, instead of the minimum of 3 years, she couldn't get California grants and financial aid for college, forcing her to make it through college without any sort of government help.
"I had to endure my 5 years of college paycheck to paycheck," said Hilario. "My family had to figure out different ways to pay. I have had to skip an entire quarter just to work and save up for my tuition."
Hilario's father also passed away recently. As he was the main provider, this left Hilario and her mother in an urgent situation to find jobs, which is especially difficult with no Social Security number. Fortunately, Hilario was accepted to the DreamSF Fellowship. They placed her with a nonprofit organization in San Francisco that helps the immigrant community, giving her a stipend in return.
"When I look back at it, I just honestly have no idea how we were able to endure all that, and really, I think it's the support from my family and all of the connections we've made here," said Hilario. "I'm glad to live in a place that supports immigrants."
As someone who was not able to receive DACA due to its highly restrictive limitations, Hilario hopes that immigration policies in the near future will cover more undocumented people, rather than being so selective.
"Even though DACA was rescinded, I feel like that opens the door to lawmakers to create policies that are more open," said Hilario. "DACA is very based on undocumented people that have an education, but that closes the door for a lot of people. Some people have children to take care of; people have to go to work. It was really selective on who is deserving of staying in this country."
Related: Trump Ties DACA to Border Wall
"It's so important that we recognize that 11 million," Hilario said of undocumented immigrants in the U.S. "We shouldn't put the blame on parents who are trying to create better lives for their children." She instead thinks that the immigration system itself is to blame.
She also hopes to see changes with the whole process of deportation. "They've given ICE officers more power to assume if a person is worthy of getting deported," she noted. "It's so important for undocumented people to know their rights."
At the non profit where she works, Chinese for Affirmative Action (CAA), Hilario reaches out to the undocumented community to teach them what their constitutional rights are. "I really got that education I need to empower myself and others," she said. The organization communicates with stakeholders in City Hall to push for policies that would help immigrant communities.
When asked what people can do to get involved to help the undocumented community, she pointed out how we can pack the court to support detained community members and join in protests for the rights of undocumented people. She also stressed how important it is to just stay informed by keeping up with the news.
"What the undocumented community is looking for among allies is that support, for them to support us in our protests, in our advocacy, and put themselves on the line instead of just saying they support DACA and not really doing anything about it," stated Hilario. "For employers and employees that may have undocumented people working there, or maybe not, it's always important for the workplace to be aware of their rights and what to do if an ICE officer comes in."
"We were taught by our parents to really fight for our place to be here. And we really have no other choice, or else we'd be deemed unworthy of staying here."
AsAmNews has Asian America in its heart.  We're an all-volunteer effort of dedicated staff and interns.  Check out our Facebook page  and our Twitter feed,  Please consider interning, joining our staff or submitting a story for consideration.