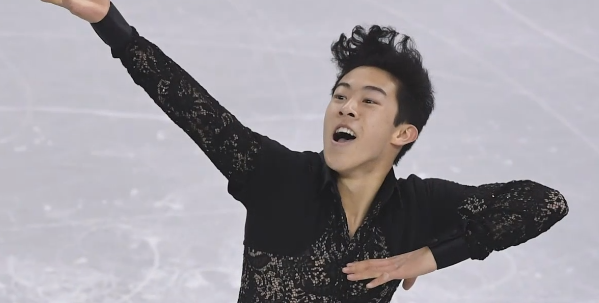 Nathan Chen won his second straight US Figure Skating Championship, leaving no doubt he's America's best hope for a gold in Pyongchang.
Vincent Zhou took third, putting him in strong contention to join Chen on the US Olympic Team with second place finisher Ross Miner.
Chen's sensational performance continued his undefeated streak this season. No other skater in the world can say that.
"This is another big step to the (Olympic) games," said Chen who is considered a cinch for the team. The official announcement won't be made until tomorrow morning.
"More pressure, more media. I'm ready for it," he declared to NBC.

FIVE. QUADS. AGAIN. @nathanwchen wins his second-straight @USFigureSkating Championships gold with an insane 315.23 total score!#WinterOlympics #BestOfUS pic.twitter.com/nCTc6xYtwX

— NBC Olympics (@NBCOlympics) January 7, 2018
Chen hit five quads. His only misstep was a triple axel which he singled instead.

.@nathanwchen earns a 104.45 for his short program, putting him in 1️⃣st place! #USChamps18 pic.twitter.com/6A1SY0wWxg

— U.S. Olympic Team (@TeamUSA) January 5, 2018
Veteran Adam Rippon placed fourth. A committee will have final say on the three American men to represent Team USA in figure skating.
There is a chance Rippon could be named to the team, displacing Zhou.
NBC commentators Tara Lapinski and Johnny Weir called Zhou the future of American figure skating and suggested he should go to the games to set up the future.
Four years ago you might recall Mirai Nagasu placed third at the Figure Skating Championships, but loss her spot at the games to Ashley Wagner. The decision is based on the total body of work for the season, but the Figure Skating Championships is the most important qualifier.
Rippon told reporters he thinks he deserves to go to the games.

"I broke my foot a year ago today. I skated like it was still broken." In spite of a disappointing performance at #USChamps18 (and a 4th place finish), @Adaripp says he deserves a spot on @TeamUSA because of past performance. @nbcbayarea @pyeongchang2018 #RoadToPyeongChang pic.twitter.com/OjWFFgMKnS

— Garvin Thomas (@garvinthomas) January 7, 2018
Watch for Updates

RELATED: Redemption-Mirai Nagasu Named to U.S. Olympic Figure Skating Team
AsAmNews has Asian America in its heart.  We're an all-volunteer effort of dedicated staff and interns.  Check out our Facebook page  and our Twitter feed,  Please consider interning, joining our staff or submitting a story for consideration.