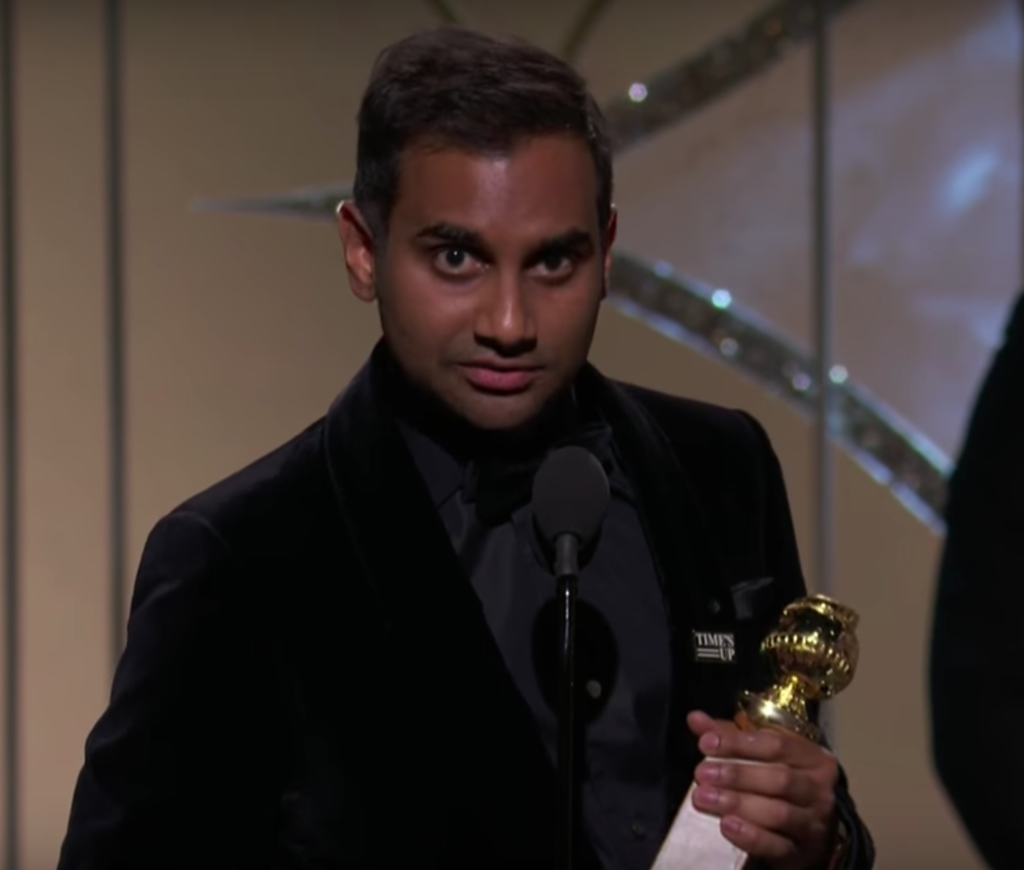 Indian American comedian Aziz Ansari was accused of sexual misconduct Saturday by a Brooklyn-based photographer days after his history-making Golden Globes win for his performance in Master of None.
The alleged victim relayed her September 2017 date with Ansari to the publication Babe under the pseudonym "Grace," recounting the discomfort she felt as they began performing sexual acts in Ansari's Manhattan apartment. She claimed that despite using "verbal and non-verbal cues" to express her unease, Ansari persisted to the point that "Grace" felt she had been "violated." She allegedly voiced her discomfort to Ansari via text message the following day.
Ansari responded to the allegations Sunday, according to The Hollywood Reporter. The actor acknowledged that the two had "[engaged] in sexual activity," but claimed the acts were "completely consensual." He also acknowledged her text message the following day, saying that he "took her words to heart." He concluded by reasserting his support for "the movement that is happening in our culture," presumably referring to the anti-sexual assault movement.
Many Asian Americans voiced their disappointment in Ansari, a stark contrast from the praise he received just days prior as the first Asian American man to win a Golden Globe for Best Actor In A TV Series, Comedy.
I know Aziz doesn't represent all South Asians but when I literally have, like, four South Asians in Hollywood, the cut feels a little deeper. And he's been the "first" for many things as a brown person in Hollywood.

I'm horrified…But not surprised.

— [bad beti] (@RadRoopa) January 14, 2018
Deeply disturbed by the Aziz Ansari allegations. As an Indian-American, I used to look up to him as a PoC role model and was inspired by his success. You hypocritically branded yourself as a male feminist. You've let women and the South-Asian American community down. #TimesUp

— Thanmye Lagudu (@TLagudu) January 14, 2018
Writer Aditi Juneja suggested on Medium that Ansari's alleged sexual misconduct be used as an opportunity for the South Asian community to include women's perspectives in discussions about sexual assault.
"The defenses of Ansari that I have seen from within the South Asian community…fail to consider the experiences of South Asian women," Juneja writes. "Asian American women, like women across racial groups, experience high rates of domestic and sexual violence. It would not be absurd to think Ansari represents a broader problem."
The allegations against Ansari emerged two weeks after the founding of Time's Up, an anti-sexual harassment movement. Ansari was seen at the Golden Globes wearing a "Time's Up" pin.