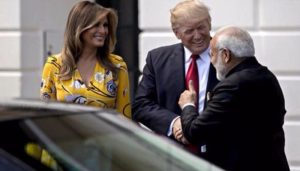 Donald Trump and Narendra Modi may be political allies, but that didn't stop the president from reportedly mocking India's Prime Minister.
The Washington Post passingly reported deep in its story about US Troops in Afghanistan that Trump has been known to use an Indian American accent to imitate the Prime Minister.
The President quoted Modi's as saying "Never has a country given so much away for so little in return," in reference to U.S. involvement in Afghanistan.
According to the Economic Times, this is not the first time Trump has used an Indian accent.
Trump mocked the accent in a campaign video and also mocked an Indian call center worker.
Indian officials in the U.S. did not immediately respond to a request for comment.
AsAmNews has Asian America in its heart.  We're an all-volunteer effort of dedicated staff and interns.  Check out our Facebook page  and our Twitter feed,  Please consider interning, joining our staff or submitting a story for consideration.