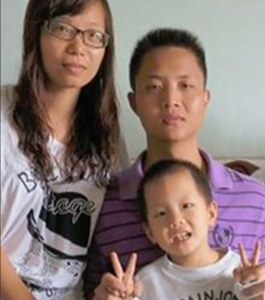 The funeral of a Chinese man who came to New York to earn money for his wife and son back in China is on hold while they fight for a visa to attend the funeral.

NBC New York reported the State Department denied the visas for the family fearing they would not return to China.

Jucong Wu fell nine stories to his death in a construction accident last Tuesday.

"When she went in to get what she thought was a formality — for her to be able to come to bury her husband — and she was told 'No,' she lost it. She was inconsolable," the family's attorney, Steven Gershowitz ,said. "She's being denied the opportunity to say goodbye to her husband."

The New York Daily News reports Wu was among a group of workers installing an elevator for a 12 story building. He worked with U-Tek Elevator and was not attached to a safety line when he fell.

The State Department declined to comment on the case.

This is similar to the story of 22-year of Ngoc Truong, a navy veteran who died of leukemia after serving four years in the Navy. His mother earlier this month missed her son's funeral because the State Department twice denied her a visa.

AsAmNews has Asian America in its heart.  We're an all-volunteer effort of dedicated staff and interns.  Check out our Facebook page  and our Twitter feed,  Please consider interning, joining our staff or submitting a story for consideration.