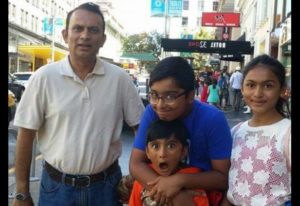 Immigration agents continue to go after the law-abiding undocumented Americans in their stepped up efforts to comply with Donald Trump's harsh immigration policies.
The latest case is Syed Ahmed Jamal, a Park University adjunct professor in chemistry, in Kansas City who was arrested Jan. 24 in his driveway as he was preparing to take his daughter to school.
Jamal arrived in 1987 on a student visa to attend Kansas University, according to his wife. He returned briefly to Bangladesh and obtained an H-1B visa to work at Children's Mercy Hospital. Then he returned to KU to pursue his doctorate, trading his H-1B status for another student visa.
In 2011, after Jamal's visa status became invalid, he was given a "voluntary departure" order. The following year, an immigration judge ruled that Jamal was allowed to remain in the country, as long as he checked in with ICE regularly to maintain his work permit.
Despite Trump's claim of keeping America safe and going after undocumented immigrants who have committed crimes, Immigration and Customs Enforcement (ICE) agents are targeting immigrants who were granted supervised stays. This policy contrasts with President Obama's policy that gave less emphasis on immigrants such as Syed and instead focused their efforts on those with serious offenses. According to a Public Radio International story in May, about 2.5 million immigrants fall under this category and almost 80 percent have no criminal record.
The law-abiding immigrants who comply with instructions to report to ICE annually are easy targets for the agency. ICE know the whereabout of these immigrants, most of whom have been living in the U.S. for many years, have contributed to their communities and raised their U.S.-born children.
These include Cambodians in California, Sikhs in New England, Indonesians in New Jersey and New Hampshire, South Asians in New York or Mexicans living in the heartland. The low-hanging fruit have been swept up by overzealous ICE agents looking for quick and easy deportations.
Trump's new immigration policies have targeted immigrants who were granted supervised stays.
As ICE agents placed handcuffs on Jamal, his daughter, a 7th-grade girl ran into the house to alert her mother and brother, while Jamal, a chemist, was handcuffed and led into a car. When his wife tried to hug him, an agent said she could be charged with interfering in an arrest, according to the Kansas City Star.
Jamal is a Park University adjunct professor in chemistry. He received a doctorate in molecular, cellular and developmental biology from the University of Kansas, has been in the U.S. three decades. Besides teaching, he volunteers at his children's schools and even ran for the local school board.
ICE officials released the following statement:
"Syed Ahmed Jamal, 55, from Bangladesh, initially legally entered the United States in July 1998 on a temporary nonimmigrant visa. After he overstayed that visa, a federal immigration judge allowed him voluntary departure until Aug. 26, 2002. He abided the judge's order and departed for Bangladesh on July 24, 2002. Three months later, Jamal legally re-entered the United States on Oct. 25, 2002, on a temporary nonimmigrant visa. He again overstayed his visa, and a federal immigration judge allowed him voluntary departure until Oct. 26, 2011. However, Jamal violated the judge's order and failed to depart the United States, and the voluntary departure order instead became a final order of removal (deportation)."
The ICE spokesman said federal immigration judges make final decisions "based on the merits of each individual case."
Jamal's family, friends and neighbors have rallied to support Jamal. They are hoping to persuade immigration officials to allow him to stay. A Change.org petition went up Feb. 2 on Jamal's behalf, and it has since garnered more than 15,000 signatures urging ICE to grant him a stay of removal. He is now being held in a Morgan County jail in Missouri, according to the petition. Jamal, they argued, was the very sort of model citizen who should be allowed to remain in the country.
After decades of living the American dream, the Jamal family fears this is the end of that dream.
"People who don't do anything wrong shouldn't have to face things like this," said daughter Naheen Jamal.
AsAmNews has Asian America in its heart.  We're an all-volunteer effort of dedicated staff and interns.  Check out our Facebook page  and our Twitter feed,  Please consider interning, joining our staff or submitting a story for consideration.