Reporting and Photography by Shirley L. Ng
AsAmNews Staff Writer
Chinatown tenants in Lower Manhattan began their threatened hunger strike this morning, demanding that the Department of Housing Preservation and Development take over repairs they accuse their landlord of delaying.
Seven tenants wearing red bands around their heads are participating in the action.
They were among the estimated 75 tenants forced to evacuate their apartment on 85 Bowery on January 18 because the city deemed the staircase in the building unsafe.
The seven tenants vow to remain on hunger strike until the City assures them it will take the necessary action to allow them to return.
The hunger strikers say they will stay at 100 Gold Street, the offices of HPD until their demands are met.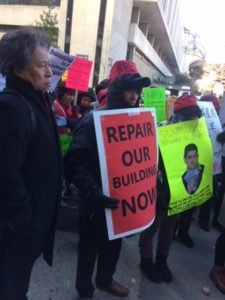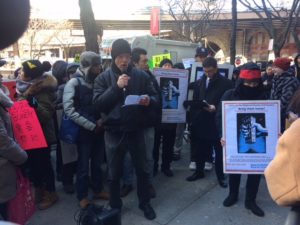 The tenants are being supported by the Coalition to Protect Chiantown and Lower East Side and Youth Against Displacement.
The strikers are demanding HPD, the Department of Buildings and the city guarantee in writing that the tenants will be able to return home once the staircase is repaired and that the city provide a clear deadline much less than the 8 weeks given by landlord John Betesh.
They also want the landlord prosecuted if he fails to meet the deadline.
According to the tenants, Betesh has tried to evict the tenants for three years.
AsAmNews has Asian America in its heart.  We're an all-volunteer effort of dedicated staff and interns.  Check out our Facebook page  and our Twitter feed,  Please consider interning, joining our staff or submitting a story for consideration.