Nikki Haley is the U.S. Ambassador to the United Nations. Under her watch,  her critics say the U.S. has become an increasingly isolationist nation that subverts diplomacy efforts through policies like the Muslim ban, the decision to declare Jerusalem as the capitol of Israel, threatened North Korea with military action and tried to bully the United Nations to accept U.S. policies or lose America's financial support.
Haley is also one of the first entries for the Desi Wall of Shame, a social media campaign #Desi Wall of Shame launched Jan. 30 by New York-based lawyer and activist Deepa Iyer and California-based activist Anirvan Chatterjee.
They want to call out the members of the Trump administration who are of South Asian descent.
"It's been a year since Trump took office and his South Asian appointees and supporters have been pushing an anti-immigrant, anti-civil rights, anti-Muslim, anti-woman, anti-LGBTQ+, anti-Internet agenda," says the website shameful.desi. It urges fellow South Asian Americans to "learn the issues" and to "hold them accountable."
Here are other charter members of the Desi Wall of Shame: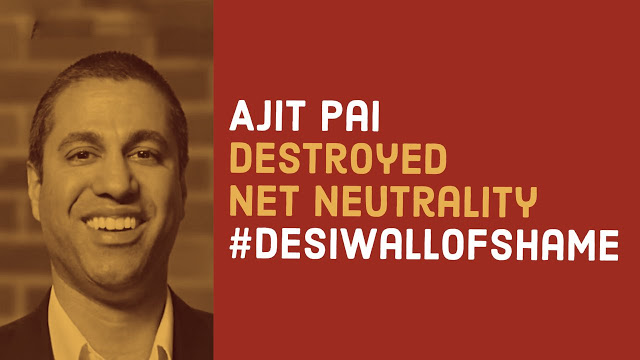 Ajit Pai is the Chair of the Federal Communications Commission. Under his watch, the FCC ended net neutrality, which proponents say keeps the internet open, free and accessible to everyone. Many fear this could harm many communities—including South Asians who rely on multilingual content.
ACT NOW: Restore net neutrality Defend net freedom
Seema Verma is the Administrator of the Centers for Medicare and Medicaid Services. Under her watch, the Trump Administration is mandating work requirements to access Medicaid. Civil rights advocates call this a "throwback to rejected racial stereotypes."
ACT NOW: Learn more Defend essential healthcare

Shalli Kumar is the founder of the Republican Hindu Coalition. He worries that "a lot of people think that Trump is somewhat of a racist." So he launched an international PR campaign to convince Indians that Trump is secretly pro-immigrant.
Raj Shah is the Principal Deputy Press Secretary at the White House. He defended Trump's "sh*thole" comments about African nations and Haiti, while his critics say he promoted fear of family-based immigration.
ACT NOW: Learn more Defend DACA
Although the wall initially included these five Indian Americans, The Twitter-verse had a few more suggestions: Conservative political commentator, author and filmmaker Dinesh D'Souza as a lifetime member; and an honorable mention for Republican Bobby Jindal, the former Louisiana governor – although he's not in the administration.
AsAmNews has Asian America in its heart.  We're an all-volunteer effort of dedicated staff and interns.  Check out our Facebook page  and our Twitter feed,  Please consider interning, joining our staff or submitting a story for consideration.