Views from the Edge

California teen Chloe Kim has emerged from the Winter Olympics as one of the Games' genuine stars. As people tend to say these days, she's gone viral.
That means, a lot of businesses will be knocking on her door for endorsements. Her youth and upbeat personality makes her a marketer's dream.
Along the way, her dazzling flips in the halfpipe and enthusiasm, the 17-year old from Torrance, helped shatter some images of what Asian American girls/women should act like.
Throw out that demure, subservient, quiet stereotype attributed to Asian women. Chloe, the daughter of Korean immigrants, is a typical American teenager who craves ice cream and churros in the midst of the most important event of her life.
She also shows an appreciation for her immigrant parents. "Watching my family work so hard has been so inspirational, and I think I really got their work ethic."
A few days after she won her gold medal for her performance in the snowboarding half-pipe, she landed the cover of Sports Illustrated.
She's also at ease in the spotlight. At a press conference after her half-pipe feat, she was cracking jokes. She dedicated her last run to her Korean grandmother, and she teased her father. "My dad didn't cry at all, which I don't get," the snowboarder said. "I'm like: What are you doing?"
Her guest appearance on the Jimmy Fallon show showed. Her effervescent personality shone through as she and host Fallon photo-bombed several unsuspecting tourists.
Fallon also revealed to Chloe that she got her image placed on the Kellogs Cornflakes cereal box, an honor reserved for athletic champions.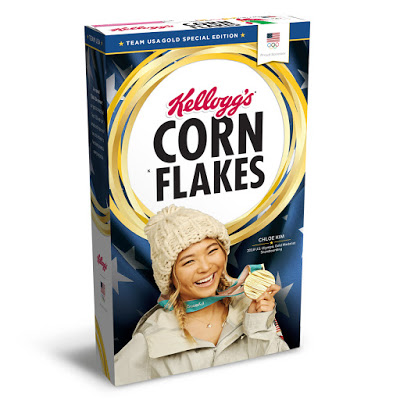 Chloe's bubbly personality, her athletic feats and her prowess on social media makes her superstar beyond the Olympics for years to come, or, at least until the next Olympics in 2022 that will be held in China.
She has experienced one of the greatest rises in Olympic athlete social media history, says ESPN. Since winning gold, her Twitter following has risen from fewer than 15,000 followers to 287,000. Her Instagram following went from 160,000 before the Games to 650,000, meaning she's halfway in followers to America's most valuable Winter Olympian, Lindsey Vonn (1.3 million).
The teenage snowboarder came into these Olympic games with deals with Nike, Burton and Oakley from when she turned pro at 13, as well as Toyota, Visa, Mondelez (Ritz and Oreo), Samsung, Monster Energy and Amore Pacific's Laneige, according to ESPN.
Usually top Olympians sign long-term deals that span from one Olympics to the next. But Chloe's father, Jong Jin, wanted Chloe to have more control over her deals once she turns 18, a wish adhered to by her agent, Lowell Taub of CAA. That means when Kim turns 18 on April 23, all of her deals will be on the table.
Advertisers shouldn't think they're dealing with a naive, little girl. In an interview with CNBC, she shows that she's given her new found fame and future some serious thought.
"It's so much more than just a contract. I genuinely only want to work with people that I agree with on certain things," she continued. "There were many sponsors I didn't want to work with because I didn't agree with their messages that they wanted to use me to convey."
Barring injury, Chloe can compete in three more Olympics and still be younger than the Shaun White, who won gold in the men's half-pipe a week ago. Watch out world!
AsAmNews has Asian America in its heart.  We're an all-volunteer effort of dedicated staff and interns.  Check out our Facebook page  and our Twitter feed,  Please consider interning, joining our staff or submitting a story for consideration.