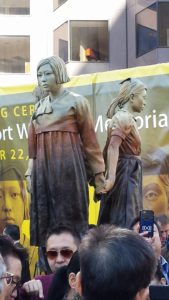 Graphic video shot by the Allied Forces of the United States and China has been uncovered showing the scene of a massacre of Korean sex slaves by Japanese troops during World War II, reports the Korean Herald.
The video was found in the US National Archives and Records Administration and made public Tuesday during a conference in Seoul on wartime slavery.
"We know all too well we shouldn't repeat this tragic history and one part of remembering it is documenting it," said Seoul Mayor Park Won-soon to the Korea Times. The city will continue to support the project that will help people remember history."
According to the Yonhap News, the research team that found that 19 second clip has spent the last year verifying it.
"This video shows the situation and reality Korean comfort women faced at the end of the war at a time when the Japanese government denies the killing of comfort women by Japanese troops," said Kang Sung-hyun, a member of the research team and a professor at Sungkonghoe University in Seoul.
WARNING: THE VIDEO BELOW IS GRAPHIC:

AsAmNews has Asian America in its heart.  We're an all-volunteer effort of dedicated staff and interns.  Check out our Facebook page  and our Twitter feed,  Please consider interning, joining our staff or submitting a story for consideration.