The Press- Telegram is reporting that an investigation by Golden West College in Hungtington Beach, CA could lead to punishment for a professor who told an Asian American family "it's not safe because there are too many people like you here…invading."

Although the college has not publicly named her, Tarin Francis Olson, a counselor at the college, has identified herself as the one in the video recorded by the family, according to CBS2.
Golden West has been under public pressure to respond to the incident as activists on social media publicly sought to out the woman seen in the video trying to flee from the camera.
The college released a statement Tuesday night that it "takes all of the recent concerns and comments expressed by many of our community very seriously.
"We are reviewing all internal policies and viable options for next actionable steps. We do not anticipate the faculty member in question to be on campus this week."
It asked for comments to be sent to [email protected].
We are taking your comments and concerns very seriously. pic.twitter.com/tDTrNiZjxT

— Golden West College (@gwchb) March 6, 2018
The response was also accompanied by a one sentence-statement from college president Wes Bryant.
"One person's comments do not define us," he said.
Attached to Bryant's statement was a 2016 promotional video entitled #YouAreWelcomedHere.
Several on social media however said Golden West needs to take responsibility and others called for strong action.
I think the interesting part in the video (https://t.co/g6XWoUvGXS) is that #tarinfrancesolson would not make her comments on camera. In other words, she ran when she got busted.

Does Professor Olson represent Golden West College???

— Francisco Castro (@FKAFernando) March 5, 2018
Yes. They hired her.

— AsianSocialNetwork (@AsianSocialNet) March 6, 2018
— ??‍♂️ (@SolomonKingCali) March 6, 2018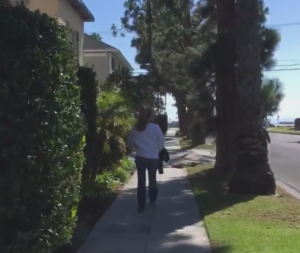 According to Tony Kao, the incident started when Olson walked by he, his wife and daughter taking a stroll through the neighborhood.

Kao said Olson muttered something about "going back to your home country." When the U.S.-born Kao pursued Olson and his wife began recording on video, Olson began to flee, but when Kao persisted, Olson repeated her statement, and then elaborated that "you're making my culture extinct."

AsAmNews has Asian America in its heart.  We're an all-volunteer effort of dedicated staff and interns.  Check out our Facebook page  and our Twitter feed,  Please consider interning, joining our staff or submitting a story for consideration.