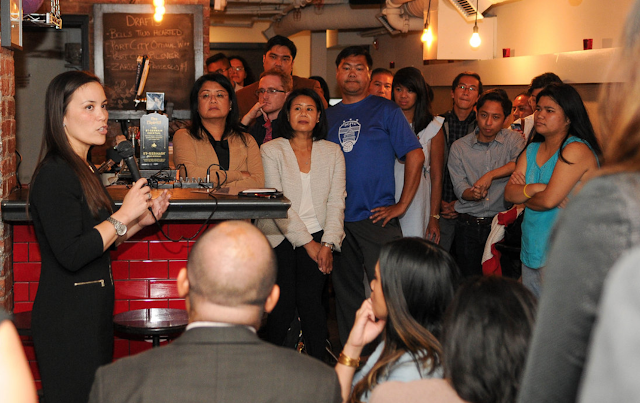 In her first bid for office, Gina Ortiz Jones showed that she can be a formidable candidate by easily winning the Democratic primary for the 23rd Congressional District in Texas.
The Filipina/American, a former U.S. Air Force intelligence officer, got 18,382 votes besting  her nearest rival, Rick Tevino who garnered 7,748 votes.
Although she got the most votes of the five Democrats running for the office, she received only 41.5% of the vote, more than double the votes that went to Trevino, who got 17.5% of the votes. That means that Jones and Trevino will face off on May 22 to determine who will run against the incumbent Republican, Rep. Will Hurd.

"We've run the campaign we knew we needed to run from day one, a campaign that reflects the priorities of this district," Jones told the San Antonio Express-News. "We will keep talking about the ways we will fight for this district."
"There are a lot of things that point in that direction," she said about Hurd's vulnerability.
The district, which has a nearly even partisan split, will be among the most closely watched in the country this year, with Democrats needing a net gain of 24 seats to regain control of the U.S. House.
In Texas' District 23, Democrats came out in force Tuesday, which should worry Hurd. The total number of Democratic voters was about 42,000 and Republicans turned out around 30,000. If the voters come out in similar numbers in November, the district could flip in favor of the Democrats.
Hurd, a former CIA operative, easily beat back challenger Alma Arredondo-Lynch. He has a sizeable war chest to help him in his reelection bid this November.
If victorious in November, Jones would become the first openly lesbian Asian American representatives in Congress. She would also become the first Filipina to gain a House seat.
District 23 is a giant district, about the size of New Jersey, spanning from San Antonio in the south to El Paso in the north and including hundreds of miles of the U.S.-Mexico border. It has long been considered one of the country's most competitive districts.
With a large Mexican American population, immigration is a big issue, which could play in Jones favor, whose mother, an immigrant from the Philippines, raised her two daughter on her own.
Like many first-time candidates this cycle, Ortiz Jones was inspired to run with the election of Donald Trump. "The [2016 presidential] election…gave me a gut check, as a woman, as a veteran, as a member of the LGBT community," Ortiz Jones says.
"I did serve in [the Trump administration] for five and a half months, but it became increasingly clear, personally and professionally, that I was going to have to serve in a different way," she says.
AsAmNews has Asian America in its heart.  We're an all-volunteer effort of dedicated staff and interns.  Check out our Facebook page  and our Twitter feed,  Please consider interning, joining our staff or submitting a story for consideration.