By Hye-Jin Kim
Minority patients in need of a bone marrow transplant face slim odds when it comes to finding a life-saving match. Asians, in particular, remain underrepresented in the donor registry, making up just 6 percent of potential donors.
To boost odds for minority patients, registering to be a donor is the best step you can take. But if you're near San Francisco this week, there's another step you might consider. It requires neither swabbing nor surgery; it'll only cost you a chuckle and a $25 donation.
This Friday, the Asian American Donor Program (AADP) is hosting its annual comedy show fundraiser, Laugh for Lives, at the Palace of Fine Arts. This year's event will feature stand-up comedy from headliner Steve Byrne, along with up-and-comers like Andrew Orolfo, PK and DJ Sandhu. The event will be held at the Palace of Fine Arts this Friday, March 23.
Kristi Yamaguchi, former U.S. Olympic figure skating champion, will return for her fifth year to select raffle winners. One of this year's prizes is a 16-person luxury suite at AT&T Park to watch the San Francisco Giants play ball against the Philadelphia Phillies.
Local realtor Mark Shaw will emcee the show, and another $10 donation grants access to a special after-party at Origin nightclub.
The Laugh for Lives fundraiser is the AADP's biggest event, followed closely by its fall golf tournament, according to senior outreach coordinator Shanna Singh. She said many attendees return year after year, often drawing an audience of more than 400. So far, ticket sales have raised around $7,500 though Singh hopes to raise much more. All the money will go towards registering ethnically-diverse donors, which can be pricey as a single test-kit costs $100.
Singh said the event's popularity can be boiled down to this: it's a light-hearted fundraiser for a serious, life-saving cause. An estimated 3,000 Americans die each year in need of a bone marrow transplant.
To clear aggressive forms of blood cancer, a donor match can be a patient's only hope for a permanent cure. Once a "last resort" option, bone marrow transplants are now the preferred therapy for blood cancers like leukemia or lymphoma.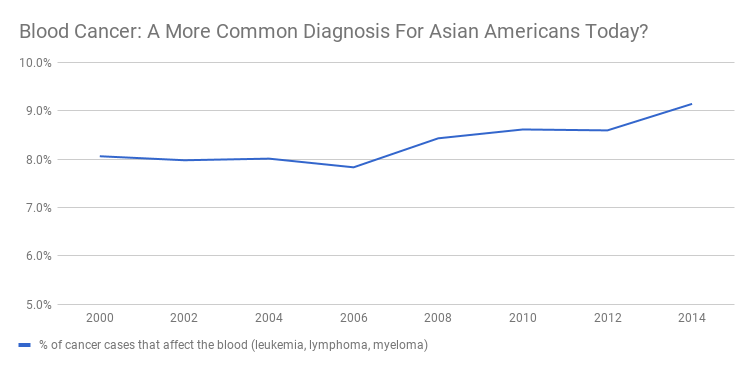 While it remains difficult for Asian Americans to find a willing donor match compared to non-minority groups, data suggests that cancers often treated with a bone marrow transplant make up a growing percentage of this demographic's cancer caseload.
Back in 2000, eight percent of all cancers among people of Asian or Pacific Islander ethnicity originated in blood cells. By 2014, the latest year in which data from the Center for Disease Control and Prevention is available, that percentage rose steadily past nine percent.
"I've noticed a trend where there's a wave of patients that have blood cancers," said Singh, who works specifically with the South Asian community.
To fill what seems to be a growing need, the AADP aims to get more Asian Americans on the marrow donor registry. Founded in 1989, the organization registers about 8,000 new donors each year. Today, there are close to 800,000 Asian Americans on this life-saving list.
For a glimpse of the comedians at the Laugh for Lives comedy show on March 23, check out the trailer below.
The show starts at 8 pm; doors open at 6:30 pm. Click here to purchase tickets.
AsAmNews has Asian America in its heart. We're an all-volunteer effort of dedicated staff and interns. Check out our Facebook page and our Twitter feed. Please consider interning, joining our staff or submitting a story for consideraton.