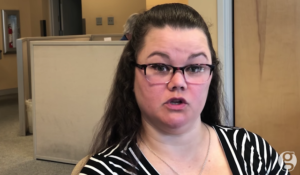 Views from the Edge

A round of applause to Jennifer Thompson for joining the fight against racial bias,
The North Carolina mother said her first-grade daughter Emily received the word "gook" in a 10-word spelling assignment,
reported the Gaston Gazette
.
Jennifer Thompson is having none of that and turned the spelling lesson and lesson of race relations
Thompson was shocked when her 6-year-old daughter brought home a spelling list that included "
gook
," a racist slur used to denigrate and dehumanize people from Southeast and East Asia.
Merriam-Webster defines "gook" as "an insulting and contemptuous term for a nonwhite, non-American person and especially for an Asian person," and describes the slur as a variation of the word, "guck," which is defined as "oozy, sloppy dirt or debris."
The term was first used in the Philippine-American war to describe the language being spoken by Filipinos without even understanding the number of dialects they were hearing. To the American soldier, it all sounded the same.
The racist slur continued to be common slang in the American military to describe the Asian enemies, especially during World War II, the Korean War, and the Vietnam War.
Last week, the word created a teachable moment that the mother neither intended nor wanted for a first-grader.
"We had to explain to Emily why
she could not say the word
and not to use it," Thompson told the
Gaston Gazette.
After Thompson contacted the teacher, the unnamed instructor told her that the students were learning words with similar sounds such as "look," "took" and, yes, that racist slur.
"They said they were going off the word sounds and not necessarily the meanings," Thompson told the paper.

Gaston County Schools schools spokesman Todd Hagans told the Gaston Gazette that the inclusion of the slur was merely "an oversight by the teacher" and that "she never meant to be insensitive."

The slur will not appear in future spelling lists, he said.
Thompson said she told the teacher that her child would not be spelling the word on any test and would not be using it. She said the teacher told her the child would not be penalized for skipping that word.

Thompson told the Gazette that she was so concerned about the word because it could normalize a hateful word.

AsAmNews has Asian America in its heart.  We're an all-volunteer effort of dedicated staff and interns.  Check out our Facebook page  and our Twitter feed,  Please consider interning, joining our staff or submitting a story for consideration.