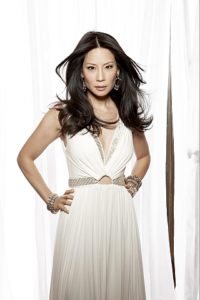 By Selena Razo
AsAmNews Intern
Actress Lucy Liu has partnered with LIFEWTR to bring art programs back to public schools through a campaign called #BringArtBackToSchools.
Art programs have typically suffered the most from reduced funding for school districts. Liu mentioned that art programs in many schools are being cut by 80 percent, showing the need for the campaign.
Liu's passion for the campaign comes from the influence art has had on her life and her career.
She grew up in a household that focused on math and science, limiting her exposure to the arts. "We didn't really focus on art at home, so the only opportunity I had was when I went to school," Liu told HelloGiggles.
Once she graduated, Liu decided to pursue an arts-based career which eventually led to her successful career today.
As part of the campaign, Liu visited a sixth grade class at Robert Wagner Middle School in New York and worked with them as they spent time creating collages.
"They only got to do art once a week, and they expressed how disappointed they were about that, how much they loved doing it," Liu told Metro.
Besides the impact art has had on Liu's life, her passion for art also comes from its importance to childhood development.
"With kids especially, there's a certain freedom that they have with the way they express themselves and that's what we should tap into now," Liu told People.
https://youtu.be/86Yr9rMV-GY
Those that would like to participate in the #BringArtBackToSchools campaign can simply share a story on Twitter about themselves or someone they know and discuss the influence art has had on their life and include their zip code and the hashtag #BringArtBackToSchools.  LIFEWTR will be donating art kits to selected schools within these areas.
AsAmNews has Asian America in its heart.  We're an all-volunteer effort of dedicated staff and interns.  Check out our Facebook page  and our Twitter feed,  Please consider interning, joining our staff or submitting a story for consideration.