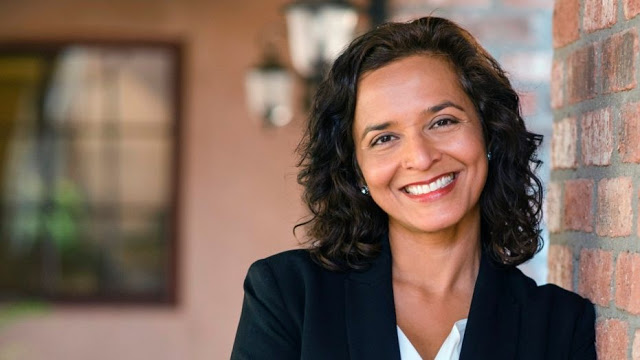 Desperate to turn the Blue tide overrunning conservative congressional districts, Republicans are spending big to help their candidate in Arizona defeat Democratic candidate Dr. Hiral Tipirneni.
Tipirneni, an emergency room physician, cancer research advocate, and candidate for Arizona's 8th Congressional District, announced Monday that she earned the endorsements of  Congresswomen Judy Chu, (D-CA) and Grace Meng (D- NY), as well as ASPIRE PAC, AAAFund, AAPI Victory Fund, and the Indian American Impact Fund.
"I am honored and humbled to receive such broad support so that I might add my voice on behalf of the West Valley to the growing AAPI chorus contributing a missing perspective in Congress," said Dr. Tipirneni. "In truth, the issues facing AAPI communities, such as quality, affordable health care, excellent public education, and protected retirement security, are the same issues that all Americans care deeply about."
Tipirneni, an emergency room physician, cancer research advocate and community leader, won the Feb. 27 primary special election by nearly 20 percent to advance to the April 24 special election.
The special election became necessary after Republican Rep. Trent Franks resigned because of sexual misconduct allegations arose.
Ballots have already been mailed and early voting has officially begun.
The Cook Political Report rates the Arizona 8th as "safe" for Republicans, and Democrats seemed to write off the district after scandal-plagued former state senator Steve Montenegro lost last month's Republican primary to former state senator Debbie Lesko.
Home to the original retirement community, Sun City, Arizona's Eighth District is 41 percent Republican and 24 percent Democrat, with 35 percent independent or otherwise affiliated, according to recent numbers from the secretary of state.
Even Tipirneni has portrayed Lesko as a heavy favorite. In a poll conducted by Lake Research Partners for Tipirneni's campaign, the Republican held a 14-point lead, and 59 percent of likely voters in the district said that they approved of Donald Trump.
However, after GOP losses in Pennsylvania, Virginia and Alabama, it appears Republicans aren't taking anything for granted. The GOP poured an additional $300,000 into Lesko"s campaign.
Tipirneni has not been able to tap into the grass-roots fundraising that helped other Democratic winners.
This is the first time Tipirneni has run for an elected office. However, she has dedicated her life to serving her community, solving problems, and improving lives. She's served the Phoenix area for more than 20 years as an emergency room physician, cancer research advocate and, most recently, on the board of directors of the Maricopa Health Foundation, which supports the county's public health care delivery system.
She immigrated from India to America when she was three-years old with her family.  She grew up in Cleveland's working class suburbs.
Following a childhood illness, Hiral was inspired to learn more about medicine. She eventually earned her medical degree at Northeast Ohio Medical University. A passionate problem-solver who thrives on working with a team, Tipirneni chose to pursue emergency medicine because of the wide variety of challenges it presented, and it allowed her to be the first point of contact for patients.
"Dr. Tipirneni would be a wonderful advocate for the communities of Arizona's West Valley, and I would be proud to serve in Congress with her," said  Rep. Meng. "Her professional background and personal experiences as a first-generation immigrant are sorely needed right now in our nation's capital."

AsAmNews has Asian America in its heart.  We're an all-volunteer effort of dedicated staff and interns.  Check out our Facebook page  and our Twitter feed,  Please consider interning, joining our staff or submitting a story for consideration.