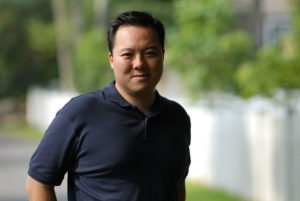 By Brittney Le
AsAmNews Staff Writer
Sixth-term Connecticut Representative William Tong has declared his candidacy in becoming the state's next attorney general, reports the Connecticut Post. To get there, he would have to win the Democratic nomination next month and win the election in November.
"I'm excited to announce I am running for attorney general," Tong told Hearst Connecticut Media. Just in January, the Hartford Courant reported that Tong was still only considering joining the race, but now he has officially committed. Born to Chinese immigrant parents, he graduated from Brown University and the University of Chicago Law School.
"This is deeply personal for me," said Tong. "It feels like Donald Trump and the people who support him are coming after me and my family. It feels like the president has declared war on you and your family."
Tong is currently co-chairman of the General Assembly's law-writing Judiciary Committee and is former co-chairman of the Banking Committee, during which he rewrote state lending rules, making it safer for people to keep their homes during foreclosures. He claimed he was proud to have pushed through the state's same-sex marriage laws after Connecticut's Supreme Court ruled civil unions separate and unequal under the law.
"We have done tremendous things here in Connecticut to make it safer," said Tong, referring to the state's 2013 response to gun-safety issues after the Sandy Hook Elementary School shooting. He also fought for the recent Connecticut ban on so-called ghost guns & bump stocks.
Tong has also warned that Republicans have drastically changed the state's procedures for confirming judicial nominees when they rejected Andrew McDonald for chief justice candidacy.
"They want to tear down the wall between the judiciary and the other branches of government," said Tong. "What happens if a future Republican governor makes nominations and Democrats oppose them? That is a crisis."
Tong has been a champion for immigrant rights, pushing for reduction of misdemeanor sentences in order to limit deferral to ICE and deportations.
Hurray to the CT Joint Committee on the Judiciary for the bipartisan passage of #HB5544, to reduce some misdemeanor sentences by a day to stop the deportation pipeline. Thanks to sponsor and committee co-chair Rep @WilliamTongCT and the tireless Rep Robyn Porter @CTDems pic.twitter.com/nxwHvw4DEF

— 32BJ SEIU (@32BJSEIU) April 4, 2018
Democratic candidates for attorney general include Sen. Paul Doyle, former U.S. prosecutor Chris Mattei, Rep. Mike D'Agostino, and Clare Kindall, assistant attorney general under incumbent Attorney General George Jepsen.
AsAmNews has Asian America in its heart. We're an all-volunteer effort of dedicated staff and interns. You can show your support by liking our Facebook page at www.facebook.com/asamnews, following us on Twitter, sharing our stories, interning or joining our staff, or submitting a story for consideration.