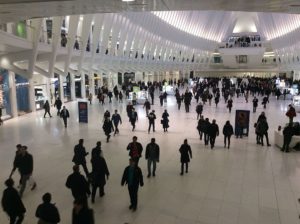 Asian Americans growing purchasing power makes them a dream niche target for marketers and can no longer be ignored.
While every demographic in the U.S. economy is making gains, Asian Americans are leading the charge, according to the latest Multicultural Economy report from the University of Georgia.
The well-educated, well-heeled Asian American consumer likes the comforts of home but enjoys good food prepared by restaurants or, perhaps, a food truck, and all the while, looking fashionable.
The annual report calculates the consumer buying power—or total income after taxes—for several racial and ethnic groups in the U.S.: African Americans, Asian Americans, Hispanics, Native Americans and Whites. Published by the Selig Center for Economic Growth, a unit of UGA's Terry College of Business, the Multicultural Economy report is available for purchase here.
The Selig Center estimates U.S. consumer buying power totaled $14.6 trillion in 2017, an increase of 97 percent since 2000 and 30 percent since 2010, with the biggest gains among minority markets. The combined buying power of Blacks, Asian Americans and Native Americans is estimated to be $2.4 trillion, while the nation's Hispanics command $1.5 trillion in spending power—larger than the GDP of Australia.
All minority consumer markets have grown faster than the buying power of Whites since 2000, but the biggest increase came from Asian Americans. Their estimated buying power totaled $986 billion in 2017, an increase of $709 billion, or 257 percent, since the turn of the century.
"The percentages tell the story," said Jeff Humphreys, director of the Selig Center and author of the report. "While there are lots of groups that are making big gains, the percentage increase in the Asian American market is quite a bit larger. It's an indication that this market has been a bit under served, and marketers and businesses are making up for it."
At 257 percent, the Asian American rate of growth compares with 203 percent for U.S. Hispanics, 180 percent for Native Americans, 108 percent for African Americans and 87 percent for Whites during the same period.
The report also breaks down spending data by area. For example, the top 10 states and territories ranked by the percentage increase in total buying power for all races since 2000 are North Dakota (158 percent), Utah (146 percent), Wyoming (140 percent), Texas (140 percent), Oklahoma (132 percent), District of Columbia (124 percent), Arizona (122 percent), Washington (118 percent), Idaho (117 percent) and Montana (116 percent).
Asian-American Buying Power
Just over 20 million Asian Americans, including Native Hawaiians and Pacific Islanders, represent 6.1 percent of the U.S. population. The group's buying power of $986 billion is larger than the annual economic output of all but 16 countries, and falls just shy of Mexico's GDP. The report predicts the market's speedy pace will continue in the near term, reaching $1.3 trillion in 2022.
The report also provides data on 17 subgroups of U.S. Asian consumers, such as Chinese, Indians and Filipinos. The market's diversity is both a strength and a challenge, Humphreys said.
The Asian American market is bolstered by rapid population growth and employment gains. From January 2000 to March 2017, the number of jobs held by Asian Americans increased by 3.6 million, or 63 percent. The population also benefits from high educational attainment and a marked increase in Asian American business startups.
The study found that Asian Americans tend to spend more for dining out, housing, public transportation, education and clothing.
On the other hand, according to the report's findings, Asian Americans tend to spend less: utilities, used cars, cash contributions, health care and entertainment.
However, the Georgia report reinforces a survey by Nielsen done last year that concluded that Asian American women are trendsetters and the most likely make the purchasing decisions for a family.
"The Asian market is partially under served because it's less unified than some of the other groups and has many different languages and customs, comparatively," he said. "That makes it harder for marketers to craft a one-size-fits-all advertisement, but makes a great opportunity for more niche targeting."
AsAmNews has Asian America in its heart.  We're an all-volunteer effort of dedicated staff and interns.  Check out our Twitter feed and Facebook page for more content.  Please consider interning, joining our staff or submitting a story.