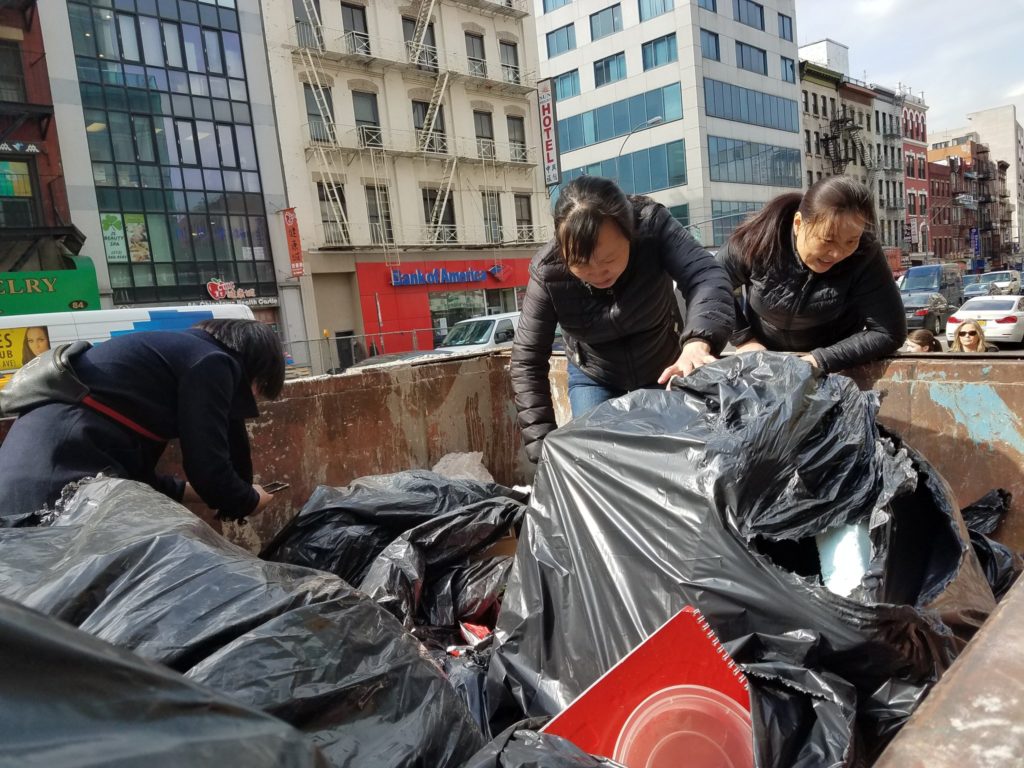 By Hye-Jin Kim
AsAmNews Staff Writer

Animosities flared once again between Chinatown tenants of 85 Bowery in New York City and landlord Joseph Betesh.
Residents discovered bags of their personal belongings tossed in a dumpster mixed with garbage, outside their rent-controlled apartments Wednesday. Panicked and outraged, some jumped into the container to rummage for their items — including medication, small appliances and clothing.
According to organizer Zishun Ning, tenants gave Betesh permission to hire a moving company and store their belongings and furniture elsewhere, in preparation for asbestos removal.
"But what tenants found out yesterday was that their belongings were mixed with garbage, thrown into a dumpster," Ning said to AsAmNews. "The tenants had to take the garbage bags from the dumpster and separate the items, but had to give up a lot of them because they were broken or contaminated."

Here's the dumpster where trash bags and #85Bowery tenants' belongings were thrown together pic.twitter.com/yzgEs9yaKX

— Lower Manhattan DSA (@DSA_L_Manhattan) April 11, 2018
A spokesperson for Betesh's holding company, Bowery 8385 LLC, emailed to amNewYork that only items "perceived to be perishable food or in contact with perishable food and/or other unusable items" were discarded.
Yet, photos of dumped belongings revealed wads of cash, a watch and children's books.
Assemblymember Yuh-Line Niou, who represents the neighborhood, emailed a statement to AsAm News calling Joseph Betesh's actions "beyond unacceptable," and "not only disrespectful but inhumane."
"These families have been out of their homes for months now, and to be treated like this by their landlord is a slap on the face to not only them but to everyone who has been working to get these tenants back home quickly and safely. I will continue to stand with the 85 Bowery tenants as we work to get them back to their homes," Niou wrote.
Tenants haven't been allowed back in the building since their temporary eviction for staircase repairs in mid-January. This initial renovation turned up aging beams followed by asbestos, pushing back for months the date that tenants might return.
Following court orders for asbestos remediation, the city's department of buildings said it partially lifted its vacate order at 85 Bowery, allowing the landlord to open the building on several days for the moving company.
Tenants claimed they were not given the option to retrieve personal belongings themselves, according to Chinatown resident Karlin Chan, who was at the scene.
A court agreement drafted on April 5 initially put the onus on tenants to pay for moving costs and storage, but a contract later signed by attorneys on April 9 handed the tab to Betesh, also owner of Dr. Jay's streetwear.
The dumpster incident is the latest in a saga that already involves a lawsuit, a hunger strike, reported $15,000 bribes to move out and rumors of collusion between city officials and Betesh, who tenants fear is scheming to flip the affordable units to market-rate.

Representatives for Betesh and the city's department of buildings have repeatedly denied these allegations.

"We understand that this is an extremely difficult time for the families of 85 Bowery, which is why we are providing storage facilities at our expense, as well as providing high-quality hotel accommodations for families at our expense until they can move safely back into their homes," the landlord's representative said in yesterday's statement to amNewYork.
AsAmNews has Asian America in its heart. We're an all-volunteer effort of dedicated staff and interns. Check out our Facebook page and our Twitter feed for additional content. Please consider interning, joining our staff or submitting a story for consideraton.