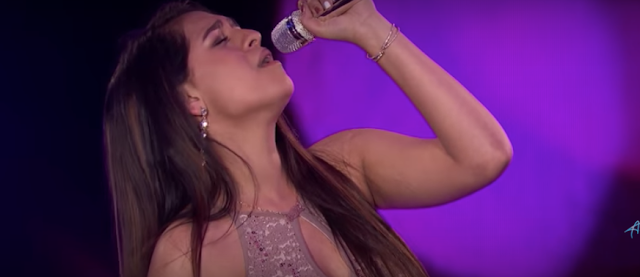 It's the end of the line for Orlando's teenager Alyssa Raghu on ABC's American Idol, but perhaps it's the launching of a long career.
After a sparkling solo performance Sunday that really impressed the judges' panel, her Monday duet with Banner lacked the polish expected of the contestants at this stage of the singing competition. Alyssa failed to make it into the Top 14 Monday.
Katy Perry said the teen's tone set her apart from every other singer on the ABC contest.
Luke Bryan said Perry had been Alyssa's champion. "You didn't have me until tonight," Bryan told the teen.
Alyssa, of Indian and Guyenese heritage, replied that it had been her goal to impress Bryan.
"You've got it," Lionel Richie told Raghu. "You've got your confidence. You've got everything. Just bring it to the table."
In the duet portion of the competition, Alyssa sang Cold Play's "Yellow" with Banners. It was a curious song choice because it didn't seem to give her a chance to show off her vocal range and her performance lacked the emotional punch needed to impress the judges.
The first sign of trouble was the audience. No one was clapping along. The second sign something was wrong was that none of the judges stood up when she finished.
The judges comments were also not full of praise. "Just a few more notes the next time you sing," said her biggest fan Katy Perry.
"That didn't give me what you shine on," said Richie.
"No matter what happens to you in this competition …" said Bryan. "Just keep delivering your style, but also … dig in."
In the end, Alyssa, from Orlando, Florida, was one of the five sent home.
She thanked her fans on her Twitter account:


Her fans are trying to bring her back into the competition by using the hastag #Savethesauce and "BringRaghuback. That probably won't happen unless one of the would-be American Idols drops out or kicked out for some reason or another.
AsAmNews has Asian America in its heart.  We're an all-volunteer effort of dedicated staff and interns.  Check out our Twitter feed and Facebook page for more content.  Please consider interning, joining our staff or submitting a story.