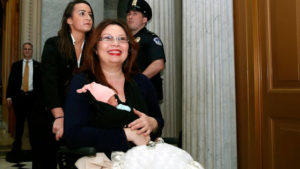 Welcome to the Senate, Maile! Ten days old and Baby Maile has already made history. She was cuddled by her mother, Sen. Tammy Duckworth of Illinois as they entered the U.S. Senate chambers.
Sen. Duckworth brought her newborn into the Senate chambers for a vote Thursday (April 19), the first baby allowed on the chamber floor. When the senator entered the chambers with her baby on her lap, they were greeted with applause. A bipartisan group of senators clustered around her to introduce themselves to the infant.
After thanking the senators for the rule change, Duckworth said, "I think it's amazing."
With her baby by her side, Duckworth cast her vote against the confirmation of GOP Rep. James Bridenstine to be the next NASA administrator.
Republican voters narrowly confirmed Bridenstine, 50 to 49,  to be the next NASA administrator. Duckworth voted against Bridenstine.
Democrats argued that Bridenstine is the wrong man for the job.
"Jim Bridenstine, the nominee that we are considering, served as a Navy pilot, and I thank him for his service. But that does not qualify him to run NASA," said Sen. Brian Schatz (D-Hawaii).
"Just because you know how to fly a plane does not mean that you have the skills and experience to lead the federal government's space agency," he continued.
"James Bridenstine is a climate denier with no scientific background who has made a career out of ignoring science," Schatz said.
Earlier in the day, Duckworth
tweeted
: "May have to vote today. Maile's outfit is prepped. Made sure she has a jacket so she doesn't violate the Senate floor dress code requiring blazers. Not sure what the policy is on duckling onesies but I think we're ready."

Sen. Amy Klobuchar, D-Minn., is the ranking member on the Senate Rules Committee, which passed the rule change the night before. She joked, the Rules committee has made a "unilateral decision" that there will be no dress code for the baby.
"The various rules that apply to senators like not wearing tennis shoes or flip-flops will not apply to the baby," Klobuchar said. The baby will also not have to wear an official United States Senate lapel pin, and onesies will be allowed, she said.