By Olivia Wolf
AsAmNews Staff Writer
At 71 years of age, Vera Koo remains one of the fiercest competitors in action pistol shooting.  A two time world champion and an eight time national champion of the Bianchi Cup, Koo is currently training in Missouri for the 2018 National Bianchi Cup and World Action Pistol Championship. The Cup is the most prestigious action pistol tournament in the world.

Not only has she won more titles than any other female competitor, she is also the only woman to have ever placed in the overall top 20.
In the beginning of her career, Koo was often the only woman at tournaments. As a Chinese female standing at 5-foot-4 and weighing 120 pounds, she was somewhat of an anomaly in a predominantly male sport.
"I've been patronized, yelled at, and scolded," said Koo. "People would say I was only at the shooting range looking for men, even though I was happily married."
Once, a businessman from China advised Koo's husband to whip her and lock her in the house for competing.
"I immigrated here from Hong Kong when I was 12. This is my culture, my age, where I come from" Koo explained. "My mother raised me to be a good wife, mother, daughter, daughter-in-law, and a good person to my friends. I was never expected to do anything else."
When asked by club members if she was any good, she'd humbly answer, "I'm OK," even though she was already a national and world champion. "It doesn't bother me. I just let my scores show them who I am," she said.
While Koo is sometimes questioned by amateurs, she is rarely criticized by other high level shooters. However, she acknowledges that her peculiar stance must be strange for others to see.
"A lot of men try to correct my form, and I have to tell them that this is the only way I can leverage my weight." Most competitors are fifty to two-hundred pounds heavier, giving them the advantage in strength and stability; Koo compensates through vigorous exercise and good technique.
She believes that being older helped her to deal with some of the discrimination that she's faced. "I've been through a lot, so the small things don't touch me. My only concern is self-improvement."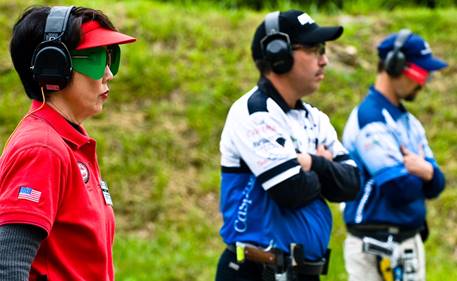 Action shooting forces competitors to combine the three qualities of precision, speed, and power to score as many points as possible within a certain time frame. It originated as a means of self defense at a time when shooters were beginning to challenge traditional training methods.
In her recently released memoir, The Most Unlikely Champion, Koo explains how she rose to the highest levels of the sport. Surprisingly, she was born into an unathletic family and never encouraged to play sports as a child. "Before I was 18, I didn't even know how to do a pushup," Koo said in an interview with AsAmNews.
However, six months after earning a college degree in graphic design, Koo married her husband who led a more active lifestyle. Together, they skied, rode horses, hiked, and camped. For a year and a half they lived in Singapore, where Koo windsurfed every day. "I'm Asian and fair skinned, but when I came back to the United States, I was dark chocolate," she recalled.  
These experiences helped prepare her for the harsh conditions of pistol shooting, where one must compete in rain or shine, from 27 to 110 degree temperatures.
Her initial interest in this grinding sport were sparked by two encounters with guns that left her terrified. The first was with a rifle, owned by a friend who wanted to show off its power to a group of acquaintances.   
"'Go ahead and shoot it'" Koo remembered him saying at the range. "He didn't give me any instructions though. When I picked up the rifle, it went AD–accidental discharge. I put it back down and didn't touch it again. I was so scared."
The second incident occurred after a dinner social when a woman offered to teach Koo and their two friends how to shoot a shotgun.
"It was something new and exciting. In my generation, most of us women were at home taking care of the kids and serving our husbands and families–and that's all we got to do. So, any time I had a chance to learn something, I grabbed it."
However, after firing a couple shots, Koo realized that what she was doing was too dangerous to continue without formal instruction. This time, she sought the advice of the Rangemaster, who advised her to enroll in a firearm safety class at a community college.
After two years of instruction, Koo's trainer informed her that she could out shoot 98 percent of the population. She was invited to perform for a cohort of police officers to demonstrate how lethal an average citizen who began shooting at 41 years old could be.
At this point, Koo was told that she needed to compete if she wished to continue honing her skills .
During a personal crisis, shooting became a refuge for Koo. Her intense focus during training took her physically and mentally to a place where she could no longer feel pain. She credits this, her faith, and professional therapy with how she was able to recover.
To this day, Koo is a strong proponent for mental health. About twice a week, she goes to the movie theaters to cleanse her mind. "I've seen so many movies, it's like chop suey," she joked.
The biggest challenge of competing for Koo has been balancing time and travel commitments with raising a family. When her children were young, she slept from four to a maximum of six hours a night. She then traveled two hours a day to practice for eleven hours on the range.
"When I first came to the United States, I didn't understand why Americans put so much emphasis on sports. However, after competing for over twenty years, I've come to appreciate how sports develop work ethic, focus, perseverance, and the ability to cope under stress."
Koo's favorite part of shooting is watching herself improve; she never makes winning a primary goal. There was only one competition that Koo entered with the mindset of winning, which resulted in the lowest scores she ever received. "When I'm focused on beating my opponent, that becomes my raw focus instead of putting out my best work."
Today, Koo is shooting about 800 rounds a day in preparation for the national and world championships. Any more than that begins to strain her. She must be careful, as an injury at this age will retire her on the spot.
"I have all the heart and desire to continue," she said. "But, there's a limit to the body."
Koo's advice to the next generation is to just be themselves, because a person's true self is all going to come out eventually anyway.
"It took me until my 50's to figure out what I was meant to do, and I relish that I found it before my life was over in this world," said Koo. "I hope others will be able to find their path sooner–maybe it'll be more fun."
AsAmNews has Asian America in its heart. We're an all-volunteer effort of dedicated staff and interns. Check out our Twitter feed and Facebook page for more content. Please consider interning, joining our staff or submitting a story.