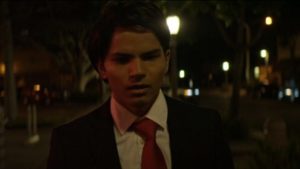 By Ahmed Sharma
AsAmNews Intern

Teenagers have enough problems to deal with in high school. However, some teenagers have to deal with issues that they won't fully comprehend until their adulthood. Namely, racism. People tend to forget that racism can come in different shades. Often, one thinks of racism as loud, boisterous and frightening. However, hidden racism, is perhaps the worst form; concealed by a conniving smile on their face, with a knife ready to place in your back. Victims may often feel less threatened than by the usual name-calling from the former type of racism, however the latter type, is more psychological and arguably more self-destructive. In other words, victims can feel guilt because of what they are, and not even realize they have been discriminated in the first place.

Indeed, comedian and Daily Show Correspondent, Hasan Minhaj elaborates the concept of racism with a smile in his Netflix special, Homecoming King. Minhaj captivates his audience with a comical take on his upbringing and attempt to reconcile growing up with immigrant parents and their traditional teachings, with contemporary American ideals. However, the central focus in his special, is his high school romance with a girl, outside of his race. Because of their ethnic differences, mostly from the side of the girlfriend's family, their relationship ultimately leads to heartbreak and unresolved feelings.


Filmmaker Imran J. Khan, in his short film, Prom, pays homage to Minhaj's Homecoming King by creating a reimagining of the story of his relationship and ultimate self-reflection upon his identity as an Indian not being able to date someone outside of their race. Additionally, Khan's retelling of Minhaj's story attempts to show empathy, in that others may have experienced a similar predicament.  However, according to an interview with Imran J. Khan and Hasan Minhaj, there are different takeaways from both mediums i.e., seeing it from Minhaj's point of view on-stage as well as seeing the short-film with actual characters acting out the scenes. Ultimately, the story is meant to deal with identity and being "hyphenated" for example, Indian-American, Chinese-American, etc.

Prom premiered earlier this May, in conjunction with Asian Pacific Heritage Month and can be viewed on YouTube, Vimeo, and Facebook.


Prom | Film School Shorts from Film School Shorts on Vimeo.
AsAmNews has Asian America in its heart.  We're an all-volunteer effort of dedicated staff and interns.  Check out our Twitter feed and Facebook page for more content.  Please consider interning, joining our staff or submitting a story.