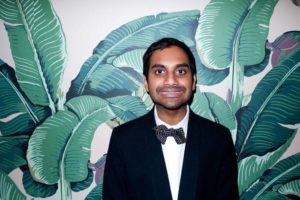 Aziz Ansari has been performing his first standup comedy shows in New York since allegations of sexual misconduct were made against him earlier this year, reports The Guardian.
In January, babe.net published an account of a woman who claimed the comedian pressured her to engage in sexual activity. Ansari responded, insisting that he believed their relations were "completely consensual," according to The Fader. The #MeToo movement, which Ansari called "necessary and long overdue," raised the profile of the allegations.
Since the allegations were made, Ansari has maintained a low profile in public and on social media. But audience members at the Comedy Cellar in New York reported that the comedian made several appearances, including one on Mother's Day. He has steered clear of any mention of the allegations, according to Hindustan Times. However, one audience member read jokes about "fake outrage on Twitter" as a subtle reference to the sexual misconduct allegations.
Other fans were excited about Ansari's appearance. One tweet read, "Finally got into the famous Comedy Cellar tonight in NYC! Tracy Morgan AND Aziz Ansari showed up unannounced to practice material!!! So happy," according to The New Indian Press.
AsAmNews has Asian America in its heart.  We're an all-volunteer effort of dedicated staff and interns.  Check out our Twitter feed and Facebook page for more content. Please consider interning, joining our staff or submitting a story.