It's that embarrassing time of year again, when I grit my teeth and endure another humiliating round of the public bashing of an Asian male as a love interest.
ABC introduced Friday (May 18) the 28 contestants who will compete on The Bachelorette for the heart of Becca Kuprin. She must choose from among 28 foolhardy candidates seeking love and 15-minutes of social media fame. The last we saw Becca, she was drowning her sorrows in beer. No, not really.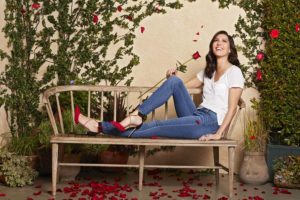 Just a short recap: It looked like she won the last season of The Bachelor when Arie Luyendyk, Jr. proposed to her. However, her elation was short-lived when he had a change of heart and took back his proposal so he could profess his love to the other finalist.
I want to make it really clear to the regular readers of this blog. I have not watched a single episode of The Bachelor or The Bachelorette, but I try to keep up with happenings in pop culture for you, dear Reader.
As these "reality" shows, go they usually have a token Asian contestant. This year's sacrificial lamb to the alter of diversity is named John, a 28-year old software engineer from Silicon Valley (naturally, the show would pick a computer geek, right?).
Don't get me wrong. John could be a perfectly nice guy and a perfect match for somebody. He sounds like he's "sensitive" because his world extends beyond computer world — he bakes banana bread and plays guitar. But history tells us that the odds of him surviving deep into the show is pretty poor.
John's sparse biography provided by the Bachelorette website says:
"John is a start-up company success story who's working hard in the hustle and bustle of the Silicon Valley tech scene. When he's not working, you can find him wine tasting, playing guitar or making his world-famous banana bread."
"World-famous," really?
AsianAmerican men have not fared well in this competition. They are usually eliminated after the first or second round of eliminations.
Asian American men can't overcome the culturally reinforced biases of the young woman who must choose someone she finds attractive.
Like several surveys conducted by dating sites have determined, American society finds Asian men the least attractive no matter what factors are used.
For women, Black women finished last spurring writer and actress Issa Ray to say in her book that Black women and Asian men should meet up.
There was a glimmer of hope last year when the franchise's first Bachelorette of color, Rachel Lindsay met Blake Killpack, a military veteran from San Francisco who had a kind grin that melted women's hearts. He was a hunk and some of his competition seemed so wacky Blake seemed to be a sure bet to survive the first round of elimination.
Nope. Rachel's judgement had to be questioned when she dumped Blake and kept some dude who shouted out "Wha-boom!" whenever he sought attention. Later, it was revealed that Blake wanted out because as soon as he was released, he got on a flight to Honolulu where his grandfather was recovering in ICU. Ahh! Somebody who had his priorities right just made him more attractive to a lot of social media netizens.
At the risk of protesting too much, I don't watch The Bachelor or The Bachelorette but — out of curiosity — I'll sometimes check out on the status of the token Asian contestant. I always find myself rooting for the underdog Asian American man — fervently hoping that this is the guy who  will break the string of bad fortune befallen Asian American contestants.
Whether John is that guy, we'll have to wait  and see on May 28 when The Bachelorette premieres on ABC.
AsAmNews has Asian America in its heart.  We're an all-volunteer effort of dedicated staff and interns.  Check out our Twitter feed and Facebook page for more content.  Please consider interning, joining our staff or submitting a story.