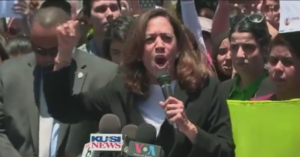 California Senator Kamala Harris, whose mother was an immigrant from India, visited immigrant mothers at the Otay Mesa Immigration and Detention Facility near San Diego.
The women she spoke to were from Honduras and El Salvador, migrant mothers who have been separated from their children.
After her visit, she spoke at a rally kicking off a weekend of protests against the Donald Trump zero-tolerance policy that has been ripping children away from their parents and detaining them in facilities across the country.
"I'm heartbroken," she said. "The government should be in the business of keeping families together — not tearing them apart," she told hundreds in an 8-minute talk.
The women were in "complete and utter despair," said Harris. They told her about difficult access to phone calls and their meager working wages of $1 per day in some instances. Harris explained that phone calls for the detained mothers cost 85 cents per minute.
"This is a prison," said Harris.

Harris told the San Diego Union-Tribune that Trump's executive order signed Thursday to stop separating families does not end the policy, costs taxpayers millions and results in indefinite detentions.
While the Trump administration reported that at least 500 families have been reunified, Harris argues that there is still no clear path outlined for reuniting the rest of the separated families.
"Why do they think these parents should be any different that any one of us?" Harris said. "Nothing can comfort our children more at the end of their day than knowing they can speak with their parents."
She ended her remarks to the several hundred demonstrators outside the detention facility  by saying: "Guys, here's the bottom line as far as I'm concerned: This fight for us is about love of country. … This is about patriotism. … fighting for the ideals of our country.
"Years from now, our children, our grandchildren are going to ask us: Where were you at this moment?"
AsAmNews has Asian America in its heart.  We're an all-volunteer effort of dedicated staff and interns.  Check out our Twitter feed and Facebook page for more content.  Please consider interning, joining our staff or submitting a story.